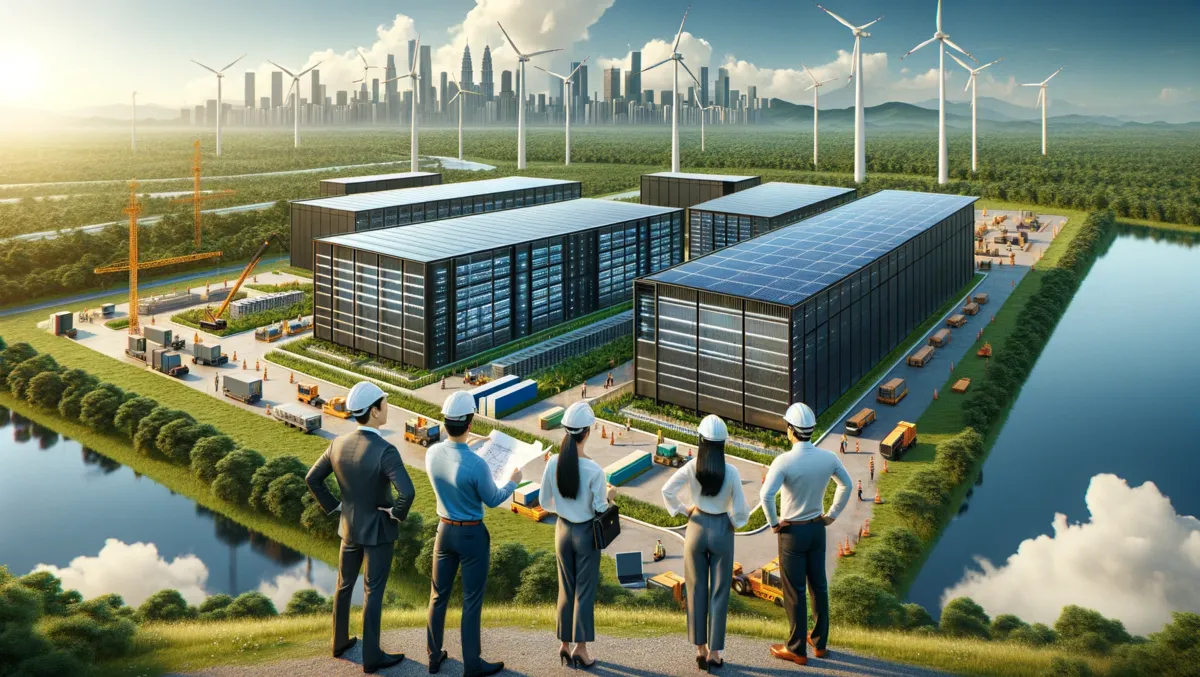 STT GDC & Basis Bay to develop green data centres in Malaysia
ST Telemedia Global Data Centres (STT GDC), one of the fastest-growing data centre providers worldwide, together with Basis Bay, a premier provider of sustainable cloud and green data centres, have announced their partnership in a joint venture for the development, construction, and operation of data centre projects in Kuala Lumpur and Cyberjaya, Malaysia. The venture was announced in the presence of Pn. Zuaida Abdullah, Executive Director - Services Division, Malaysian Investment Development Authority (MIDA); En. Mahadhir Aziz, CEO, Malaysia Digital Economy Corporation (MDEC), as well as senior executives from both STT GDC and Basis Bay.
Under the partnership, the companies plan to establish their first data centre campus in Cyberjaya, located approximately 30 kilometres outside Kuala Lumpur, Malaysia's capital. This campus will include the development of two new buildings across over three acres of land, set to offer close to 20MW of IT load. The project comes as a response to Malaysia's growing demand for digital infrastructure, with the joint venture actively considering other opportunities to expand further within the country.
The first building, named 'Cyberjaya DC.2,' has been designed as a Rated-4 facility aiming to provide a highly secure, eco-green premium data centre, meeting international standards of security and sustainability whilst also considering the specific environmental quirks of the local habitat. It will concentrate on serving local and international banks, financial institutions, government agencies and other critical industry segments and is expected to be operational in 2024.
The second facility, 'STT Kuala Lumpur 1', is courteously designed to serve the hyperscale segment, with construction intended to begin in the coming months and anticipated completion by 2025.
Dato Praba Thiagarajah, Executive Chairman at Basis Bay, said: "With this unique hybrid DDI-FDI joint venture, we will create a dynamic space in the fast-moving and growing data centre industry, especially in Malaysia. This partnership is strategically positioned to meet the volume and scale requirements of hyperscalers while simultaneously delivering the premium, super high availability needs of financial institutions and the like."
The partnership sees Basis Bay bring a deep local understanding and network of enterprise customers, while STT GDC, with its portfolio of 85 data centres across 10 geographies, brings global expertise, advanced technology and access to broader markets. Lionel Yeo, CEO, Southeast Asia at STT GDC, said, "This strategic venture will not only add another crucial market to our global data centre platform but also reinforce our expanding foothold within Southeast Asia, deepening our roots in this dynamic high-growth region."
Moreover, the partnership between Basis Bay and STT GDC is not just providing Malaysia with a world-class hyperscale data centre facility, but will also form a Centre of Excellence to train local talents for regional and global demands in the data centre industry. As part of their commitment, MDEC and MIDA are coordinating under the Digital Investment Office platform to facilitate this partnership and investors.
Malaysia's digital economy is projected to grow significantly with an expected contribution of 25.5% to GDP by 2025, equating to a value of US$34 billion. As part of this surge, STT GDC is set to expand its footprint in Southeast Asia, strengthening its position as a leading data centre solutions provider in the region.