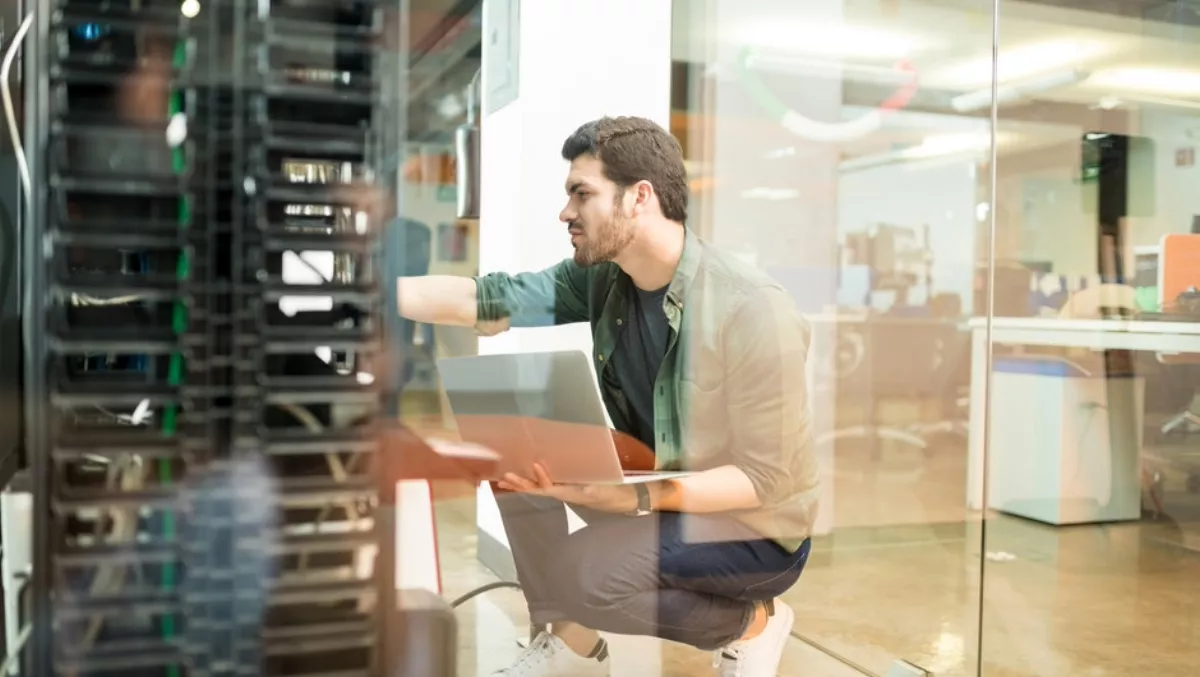 Storage is all the rage, and SmartNICs are the key
Storage is a top concern in today's enterprise and cloud data centers. Efficient databases, virtual servers, machine learning, artificial intelligence, big data, and video streaming all require vast amounts of fast storage, allocated to the right servers. But delivery is a challenge.
Local storage is fast, it is easy to access and deploy – but the uncertainties and pressures of modern business means it is necessary to spend extra and allow for redundant capacity. In that sense network storage is so much more cost-effective.
With network storage, however, every feature – such as compression, deduplication, encryption, thin provisioning, or file systems – is software-defined for efficiency, and that means extra work for the servers. This reduces compute availability for application processing. So it is far from easy to get optimal performance, security and virtualisation from network storage.
How are today's data centers operators addressing this dilemma? A recent survey of over 200 cloud, telco and enterprise data center professionals looked in depth at their views, strategies and what they are actually doing to improve data center performance and efficiency in the real world. The survey pinpointed the vital importance of "efficient utilisation of servers and storage".
Survey background
The survey was conducted in Q1 2019 by Futuriom, using an independent cloud-based data partner. The respondents included 116 from the US, 52 from China, and 50 from the UK – to get a diverse global picture based on key regions where data-centre infrastructure is being deployed aggressively.
The distribution of respondents was across the cloud (49%), telecommunications (26%), and enterprise IT domains (25%). All were screened for IT expertise, with 25% falling into the CxO or SVP category. Roles included: enterprise IT managers (39%), cloud architect/managers (32%), applications development (26%), security (24%), and network manager/architect (22%). The survey was limited to companies with more than 500 employees as follows: 34% of 501-1,000; 41% of 1,001-5,000; 14% of 5001-10,000; and 11% more than 10,000 employees.
Some findings
A clear picture emerged of the need to upgrade data center networks to greater efficiency – rather than simply boost capacity by deploying more CPU hardware. Asked to "Rank The Following Technological Responses to Improving Data Center Performance" the highest average ranking goes to "Improve the efficiency of networks using techniques such as processor offload and SmartNICs", whereas the lowest ranking goes to: "Deploy more servers".
There are many potential benefits to be expected from upgrading the network. These include: faster application performance (64%), stronger security (59%), greater flexibility (57%), and application reliability (57%). Overall, network optimisation is seen as a key way to improve data center performance. For example: 84% of respondents thought network infrastructure was either "very important" or "important" to delivering artificial intelligence and machine learning.
When it comes to practical solutions, another clear picture emerges of data center operators deploying SmartNICs to achieve better results. Asked "Which of the following use cases for SmartNICs appeal to your IT organisation?", the second choice is "Virtualise and share flash storage to use it more efficiently" at 55%. The overall winner is "Improve efficiency of VMs and/or containers" – only slightly ahead at 56%. Other choices are "Enable more software-defined networking" (54%); "Accelerate hyperconverged infrastructure" (50%) and "Isolate and stop security threats" (47%). Only 10% confessed to "I do not know what a SmartNIC is".
There are interesting differences across the three regions polled. China stands out for its strong recognition of the role of SmartNICs for optimising storage networks. For the two most popular use cases, improving the efficiency of VMs and containers and virtualising and sharing flash storage, were 65.38% and 75%, respectively – compared with 55% and 51% in the US. The UK showed slightly lower levels of interest for all use cases.
What are SmartNICs?
The secret of a smart network lies in the Network Interface Cards (NICs) stitching the network together: SmartNICs have built in C-programmable ARM processors – as used in cellphones – plus intelligent accelerators using standard APIs. SmartNICs can be programmed to do anything from optimising traffic flows to recognising and quarantining malicious data before it reaches a server. Tasks like Remote Direct memory Access, Non-Volatile Memory Express over Fabrics (NVMe-oF), compression, encryption, and network virtualisation place a constant demand on the server cores, reducing their ability to support applications. More advanced SmartNICs can even virtualise networked storage to simplify provisioning to both virtual and bare metal servers.
In the diagram the green cores are free to serve applications, and the red ones are still busy optimizing the network. At the same time the network performance improves, and cores are freed up – for example 7.6m packets per second using 8 cores improves to 80m pps using zero cores – thanks to SmartNICS building intelligence across the network rather than referring everything up to the servers.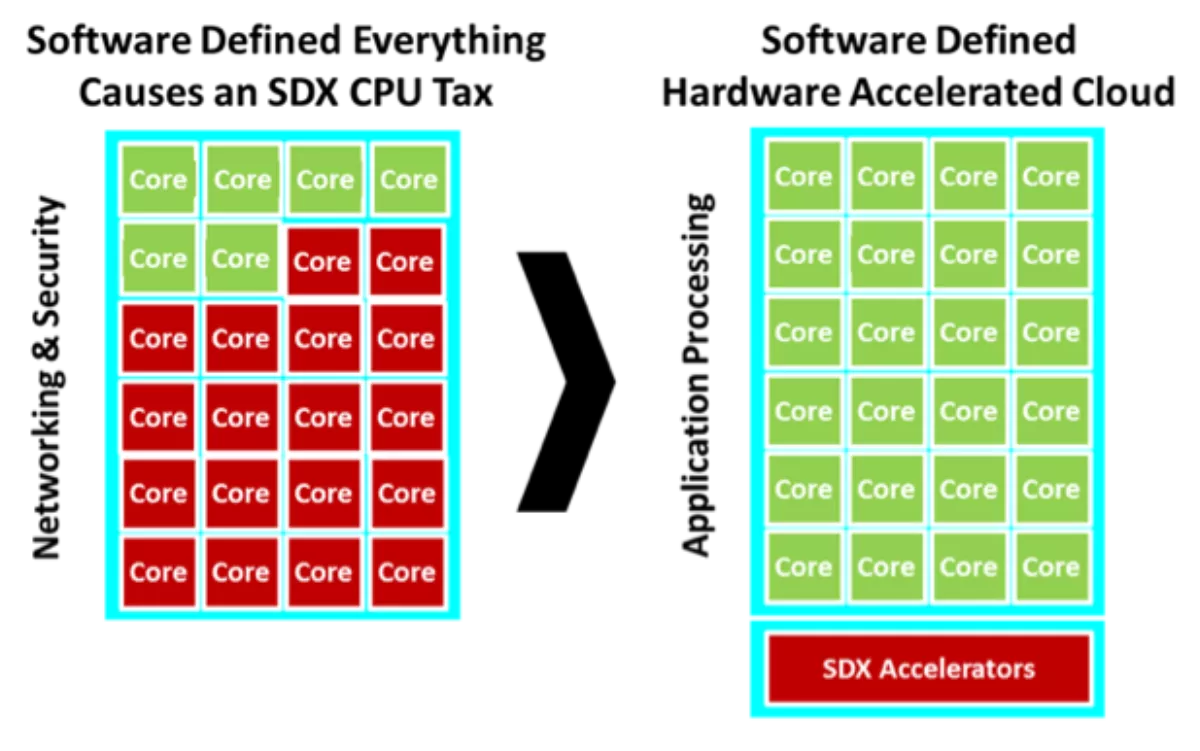 Conclusion
The data center is being reinvented to meet the challenges of demanding applications – from big data mining, through artificial intelligence to self-driving vehicles.
The network is the critical glue holding it all together, and SmartNICs are freeing up processor power to better support applications. At the same time they are building a smart network better able to handle increasing performance demands and better able to identify and block malicious traffic closer to source. The results are manifold and they include upgrading networked storage – so that it performs every bit as well as local storage.