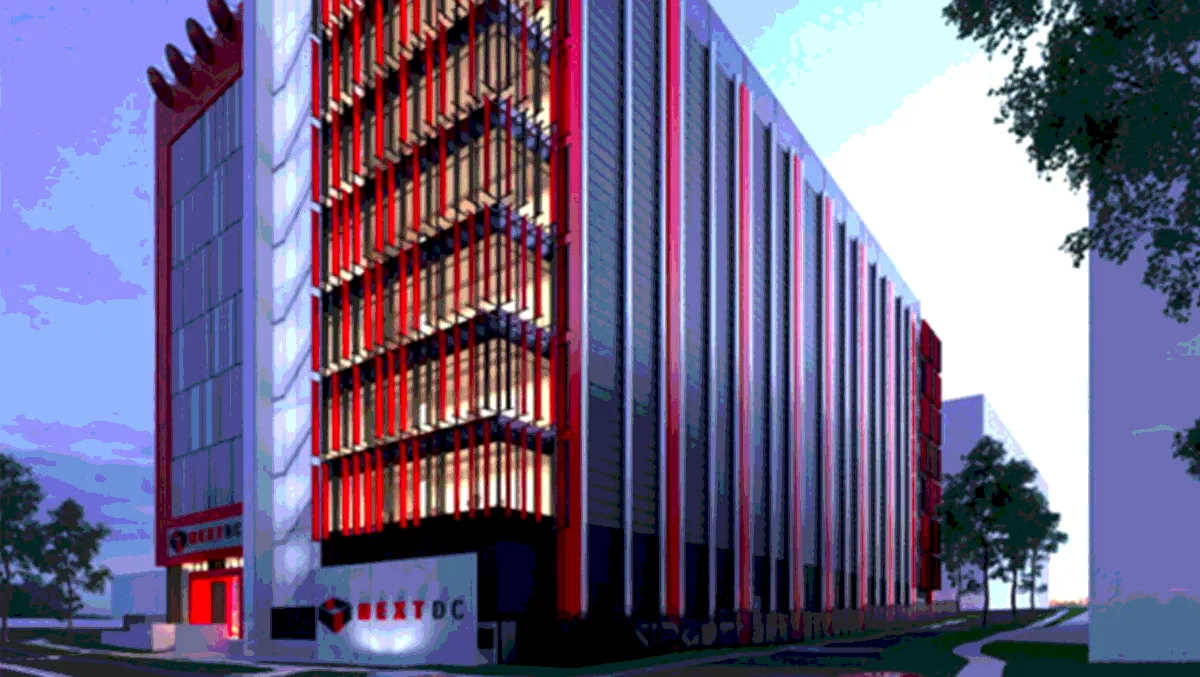 NEXTDC adds 9MW customer contracts at new Sydney data centre
FYI, this story is more than a year old
Artist impression of the S2 facility for completion 1H19
NEXTDC has been a regular participant in recent headlines, with examples including its feud with 360 Capital, its partnership with Alibaba Cloud, and its achievement of Tier IV Gold Certification of Operational Sustainability for its Brisbane B2 data center.
Now, the company has revealed its Sydney S2 data center has increased its contracted commitment by around 9MW to more than 14MW since 30 June 2018, taking up 47 percent of total planned capacity.
The facility is still in the midst of construction and on track to be completed in the first half of 2019, with critical infrastructure buildout expected to be ongoing for at least the next two years.
When construction of the S2 data center began, NEXTDC had only planned to equip the S2 data center with 6MW in its first phase, but at the company's FY18 results it announced a further 8MW (phase two) of new capacity was to be added in an attempt to meet relentless customer demand.
Now, with the reason put down to recent positive developments in the Sydney market, NEXTDC has announced it has brought forward an additional 8MW (phase three). As a result, the current capacity under design and development for S2 is now 22MW of the 30MW total planned capacity.
NEXTDC asserts revenue recognition for the new contracted commitments will surge in FY20, with the full run rate impacted expected to be recognised in FY21.
NEXTDC chief executive officer Craig Scroggie is pleased with the new commitments and confident for the future.
"We advised the market at the time of FY18 results that the Company's sales pipeline was very strong and the timing of large sales to the hyperscale cloud market would be unpredictable given the long run nature of the sales cycle," says Scroggie.
"We're very pleased to have now locked in material MW contracted commitments against these expectations.
Scroggie asserts the recent developments with S2 will not change the company's existing FY19 capital expenditure guidance (between AU$430-470 million) as the additional capital expenditure will form part of the additional capacity to be delivered in FY20.
"The demand for our data center services continues to accelerate and exceed our expectations, particularly in the Sydney market, yet requires discipline and patience as the nexus between the hyperscale capacity planning, site development, infrastructure deployment and revenue recognition can in practice be 2-3 years for these very large hyperscale developments," says Scroggie.
"This is all part of NEXTDC's digital infrastructure business model, which continues to build long term value through contracted capacity and tangible asset backing.
In terms of the S2 facility, NEXTDC claims it is planned to be third Tier IV data center constructed in the Australian market and the first Tier IV data center in Sydney. The facility is also scheduled to take on the Tier IV GOLD operational sustainability certification that NEXTDC's Brisbane B2 facility has achieved.
S2 is the company's first hyperscale high-rise data center and will feature independent benchmarking of cooling efficiency with a full year target PUE of 1.29 and a seasonal best target of 1.15.
In terms of technology, NEXTDC asserts the facility will be equipped with next-generation biometric technology with 24/7 security and around the clock onsite technical capabilities.
Continuing the rise of modular facilities, more than 75 percent of NEXTDC's S2 facility has been manufactured and tested off-site to minimise deployment and commissioning times.