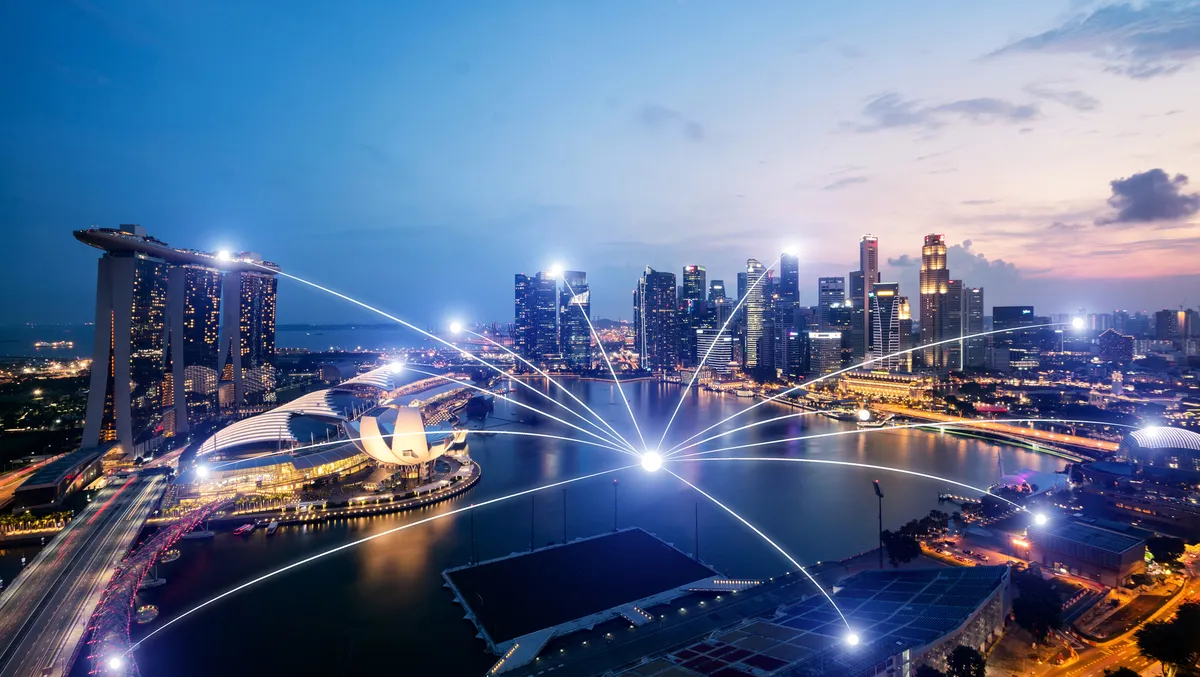 How data centres can innovate for a sustainable future
The world's rapidly expanding digital economy has dramatically increased the volume of data being generated, transacted and analysed. This has resulted in the proliferation of compute-intensive applications and is driving the world's data centres to consume twice as much electricity now as they did just four years ago.
Together, data centres will consume around 416 terawatt-hours (TWh) of electricity this year alone, accounting for more than 3% of all energy produced globally. That's up from 205 TWh in 2018, when data centres comprised around 1% of global electricity production.
This trend is simply not sustainable in the long term. The climate crisis is one of the critical issues facing society today, and it is incumbent on every business, including data centres, to find innovative ways to efficiently manage resources and reduce our impact on the environment.
The Singapore government's pilot scheme for sustainable new data centre builds – the Data Center (DC) Call for Application Exercise – exemplifies such innovation. It marks concerted government intervention to ensure that future developments can be managed within Singapore's global climate change commitments under the 2015 Paris Agreement.
It's a step that is very much in line with Digital Realty's own approach. As a global industry leader, we are firmly committed to doing right by our customers and the environment, helping them deliver growth while driving sustainable innovation to decarbonise our industry.
So, what does our commitment look like in practice?
Committing to ambitious targets
In 2020, Digital Realty became the first global data centre organisation of our size and scale to set aggressive, science-based carbon emissions targets with our Science-Based Target Initiative.
This is in addition to our long-established energy and water efficiency targets. As a company, we are committed to reducing our scope 1 and 2 emissions (both direct and indirect) by 68% and our scope 3 emissions (that is, the indirect emissions in our value chain) by 24% by 2030.
We also believe it's important to look at all factors holistically – across the breadth of our business – when designing our sustainability strategy to see how and where we can have the biggest impact.
That has seen us adopt new approaches to managing our centres globally. For example, we apply a range of power-saving initiatives across our facilities, including routinely upgrading our LED lighting and our heating, ventilation and air conditioning equipment to ensure we can optimise energy efficiencies.
We also source long-term renewable energy contracts wherever feasible, thus locking in a continuous stream of clean power. We implement this via onsite solar installations and offsite virtual power purchase agreements, as well as utility retail power supplies.
At the same time, we actively seek to engage our customers in discussions on how we can help them manage and monitor their energy usage at our sites. For example, we can provide access to our proprietary Data Center Infrastructure Management system. That way, our customers can better track their IT systems' energy consumption in real-time.
Many Digital Realty sites are also using an innovative, distributed, redundant uninterruptible power supply design that is more energy efficient and cost-effective to operate than conventional infrastructure.
Digital Realty's newest facility in Singapore, Digital Loyang 2, is one of the most sustainable data centres in the region, with a designed-PUE rating of 1.3. Aside from the energy-efficient design, we also leverage space- and fuel-efficient turbine generators that provide cleaner backup generation and cleaner emissions than conventional data centres.
Embedding sustainable approaches in design and construction
Our holistic approach has also meant we have needed to change the way we select and construct new data centre sites.
Historically, data centres were typically constructed in areas near large numbers of customers. Now, new facilities are being designed to consider the availability of nearby natural resources such as air, wind, sunlight, and water. This is helping Digital Realty to embed our data centres within a circular resource system that incorporates sustainable operations.
Carrying out a life-cycle assessment (LCA) at the design stage can be a great way to help understand a building's planned embodied carbon emissions and identify ways to reduce emissions in construction materials. It's why we routinely incorporate LCAs into our construction strategy, enabling us to create a consistent approach to utilising low-embodied carbon materials across our development portfolio.
We also utilise green building certifications such as LEED and BREEAM as we develop new data centres. Such certifications can help us ensure we can be more energy- and water-efficient than baseline data centres – both through the use of sustainable construction materials and by recycling waste during construction.
Embracing cutting-edge cooling solutions
Innovative cooling techniques have been shown to be an extremely beneficial way of reducing costs and increasing sustainability, given that cooling can account for more than 30% of the energy required to power a data centre in a location such as Singapore.
Digital Realty has already demonstrated the benefits of a river-fed cooling solution at our campus in Marseille, France. This approach is up to 30 times more energy efficient than traditional cooling systems and will reduce power consumption by up to 18,400 MWh annually while avoiding the emission of 795 tons of CO2.
Where possible, we also divert waste heat from our data centres to heat hundreds of thousands of local homes and businesses. For example, we have successfully deployed this approach at our Digital Seoul 1 data centre.
Singapore's tropical climate poses other challenges. That's why Digital Realty has worked with Singapore startup CoolestDC to evaluate a proof-of-concept liquid cooling solution for bare-metal infrastructure. This significantly reduces power consumption and improves IT performance relative to traditional air-cooled servers.
We've also contributed funding and technical knowledge to support the Singapore Tropical Data Centre initiative, which has a charter to research sustainable and efficient data centre solutions to enhance the competitiveness of Singapore's data centre industry.
Innovating with purpose for a more sustainable future
The growing challenge of collecting, storing and managing ever-increasing volumes of data and managing evolving sustainability goals is forcing data centre operators to innovate like never before.
Today, we're more committed than ever to taking steps to minimise our impact on the environment, and working alongside our customers, investors, employees and communities wherever we operate to achieve that goal.
However, we know there is more to do, which is why we are determined to continue re-evaluating and challenging ourselves to do more to help our customers and our industry move forward, the sustainable way.