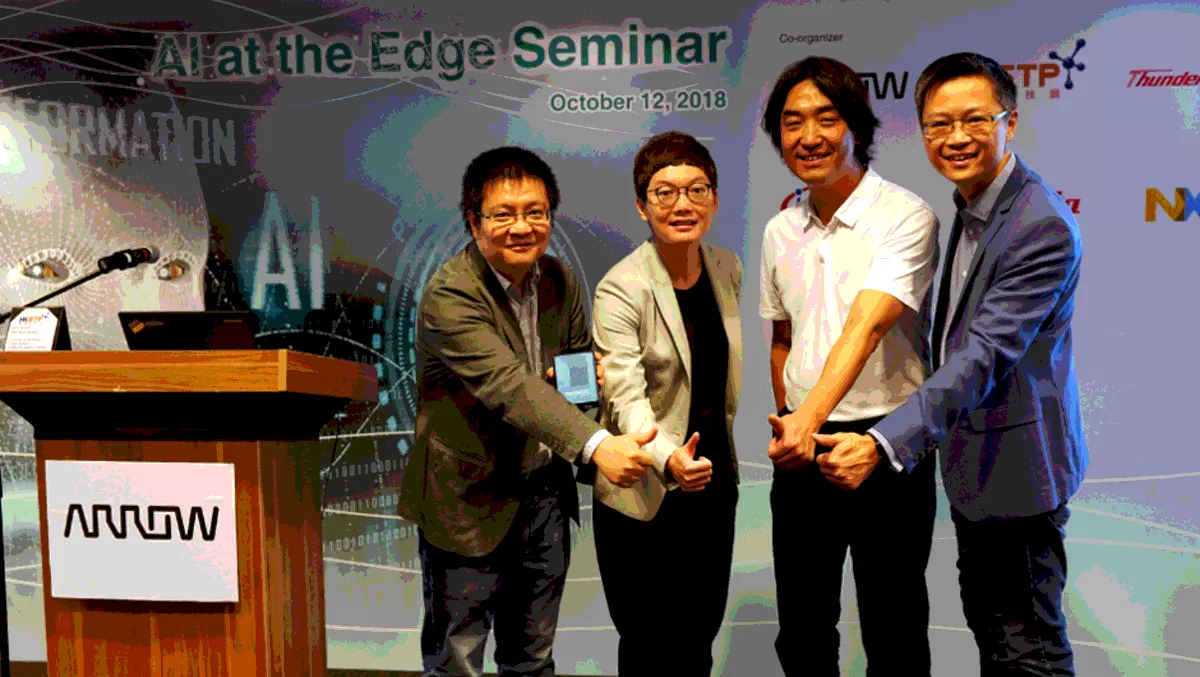 Arrow and Thundersoft team up to drive Asian edge development
Fri, 12th Oct 2018
FYI, this story is more than a year old
By Ashton Young, Editor
(From Left to Right) Mr. Peng Cheng Zou, CTO of Thundersoft, Dr. Crystal Fok, Associate Director of Robotic - MPE at Hong Kong Science Park Corporation, Prof. Yangdong Deng from Tsinghua University and Jacky Wan, Vice President of Engineering
Edge computing is a hot topic around the world and now a new collaboration has been formed in a bid to open the market for engineers and developers in Asia.
Arrow Electronics has teamed up with Thundersoft to aid developers and engineers to integrate AI technology in the rapidly growing base of edge devices needed for powering applications like IoT, robotics, industrial control, autonomous driving, and more.
The partnership will see technology solutions provider Arrowsoft offering smart platform provider Thundersoft's Thundercomm TurboX AI development kit.
The deal is certainly warranted as a recent IDC study found that billions of IoT devices are being installed and connected all around the world, and by 2020 45 percent of all data created by these devices will be stored, processed, analysed, and acted upon close to or at the edge of the network.
"A hybrid cloud-based environment is essential to enable deep learning and algorithm optimization. Recent edge-computing innovations can equip algorithm-powered devices with complicated computation and storage capabilities to perform mission-critical functions that are closer to the point of impact or where the users are. An integrated model of cloud and edge computing working hand in hand allows us to optimize compute, storage and networking resources and deliver best AI performance," says Tsinghua University's Dr. Yangdong Deng.
"I am impressed by the discussion and collaboration between academies, industries and businesses, and welcome further applications of AI research in real-life and commercial settings."
In terms of the technical aspects, the new AI kit offered by Arrow Electronics is powered by Thundercomm Turbo X and supports various SDK, AI tools, and AI cloud services based on Qualcomm AI Engine, running on core heterogeneous architecture – Qualcomm Hexagon Vector Processor, Qualcomm Adreno GPU, and Qualcomm Kryo CPU.
Arrow Electronics APAC components vice president of engineering Jacky Wan says this kit will empower developers and manufacturers to train and verify algorithms and create AI applications quickly.
"In an Internet of Things world, a centralized and cloud-based environment is likely to pose challenges such as network latency and cost, connectivity complexity, and power consumption," says Wan.
"With this addition to our broad range of technology offerings, we can better assist our broad network of engineers and device designers to architect an optimal intelligent system that can handle speech recognition, computer vision, complex event/data processing features on edge/gateway devices."
Similarly, Thundersoft CTO Peng Cheng Zou is confident in what the future holds.
"TurboX AI kit is a great tool for developers and manufacturers to help businesses. We are excited that TurboX is making its presence in the market, thanks to our long-term partner," says Zou.
"Arrow's engineering expertise and broad customer network is key to enabling us to bring the power of on-device AI into the hands of engineers and developers."