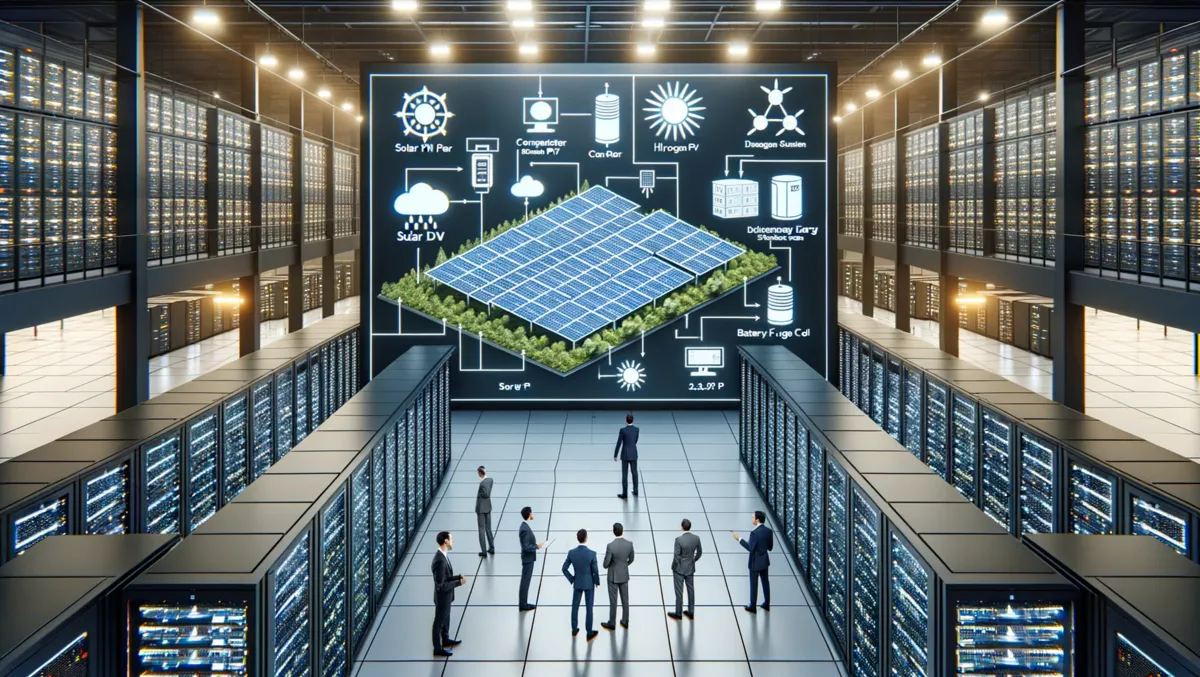 Vertiv Introduces Innovative Microgrid Solution for Data Centers
In an era where digital advancements are pushing the boundaries of traditional electrical utilities, Vertiv, a leading global provider of critical digital infrastructure and continuity solutions, has made a significant stride. The company unveiled its Vertiv Customer Experience Center, which centres around a pioneering microgrid power solution designed to assist data centres in overcoming electrical grid capacity and availability challenges.
As digital transformation progresses, with technologies such as Artificial Intelligence (AI) and Generative AI (GenAI) at the forefront, data centres are grappling with the pressures these innovations place on conventional electrical utilities. To address this, Vertiv has collaborated with American Electric Power (AEP) to implement the microgrid application. Both the microgrid and the experience centre have been inaugurated at the Vertiv Delaware facility.
The rise in artificial intelligence applications means that data centres now demand more power than can be supplied by traditional electric grids. Microgrids offer a solution, not only meeting these power needs but also reducing the dependency on the electrical grid for power capacity and availability. They also present an alternative to frequent diesel generator backups.
Vertiv's approach is not just to introduce a microgrid but to use it as a proof of concept. This will allow the company to assess the microgrid's operational functions in tandem with Vertiv™ data centre infrastructure technologies. Factors under scrutiny will include reliability, backup duration, and the microgrid's responsiveness under both regular and extreme operational conditions. By merging top-tier, reliable, and environmentally-friendly infrastructure technologies, the Vertiv microgrid aims to uphold data centre availability and sustainability objectives.
Kyle Keeper, the Senior Vice President of Global AC Power product development and engineering at Vertiv, expressed the company's vision for the microgrid. "Our customers are considering the potential of microgrids and battery energy storage systems (BESS) for their essential power systems. By establishing a microgrid that doubles as a customer experience centre and a performance test lab, Vertiv can assist our customers in determining if a microgrid and BESS align with their data centre needs. Moreover, it will guide them on how to launch their microgrid sites," Keeper remarked. He further noted the significance of this development in enabling customers to interact more efficiently and effectively with the electrical grid.
A closer look at the 1.0 megawatt (MW) microgrid reveals a comprehensive set-up. It incorporates a 1.0 MW AC Solar PV (photovoltaic) array, a 400MW Hydrogen Fuel Cell, a 1.0 MW Vertiv™ DynaFlex Battery Energy Storage System (BESS), and other essential components such as Vertiv's Uninterruptible Power Supply (UPS) system and a lithium-ion battery.
The principle behind microgrids is to diminish the risk posed by utility outages. This is achieved by integrating various distributed energy resources, with a BESS capturing and supplying the energy as required. In Vertiv's model, energy sources include the electrical utility, solar array, and the hydrogen fuel cell.