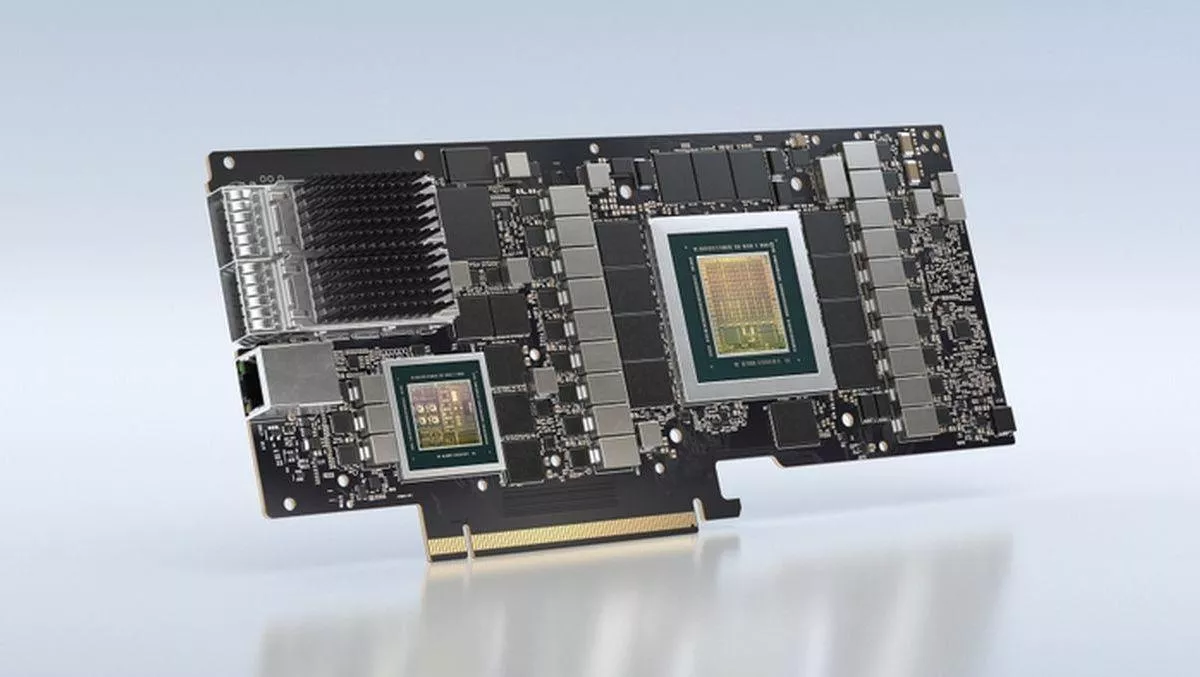 NVIDIA pioneers BlueField-2 DPU - a data center on a chip
By Newsdesk
Wed, 7th Oct 2020
FYI, this story is more than a year old
NVIDIA has pioneered a new processor that positions the data center as the new unit of computing – on a chip.
Unveiled at GTC 2020, the company revealed details about its new data processing units (DPUs) that support NVIDIA's data center infrastructure on a chip software called DOCA.
NVIDIA's three-year DPU roadmap includes the new NVIDIA BlueField-2 family of DPUs, which will include NVIDIA DOCA software development kit. The DOCA kit is designed to build applications on DPU-enhanced, accelerated data center infrastructure services.
NVIDIA founder and CEO Jensen Huang says that DPUs are critical to modern data centers, which rely on the combination of CPUs, GPUs, and DPUs to create a single programmable computing unit, with additional AI and security enhancements.
According to NVIDIA, one BlueField-2 DPU can deliver the same services that could use up to 125 CPU cores.
The BlueField-2 DPU includes all capabilities of the NVIDIA Mellanox ConnectX-6 Dx SmartNIC, and Arm cores. It is fully programmable and can deliver data transfer rates of up to 200 gigabits per second. It is designed to improve data center security, networking and storage tasks, including isolation, root trust, key management, RDMA/RoCE, GPUDirect, elastic block storage, data compression and more.
The NVIDIA BlueField-2X DPU is an enhanced version of the BlueField-2 DPU. It includes NVIDIA Ampere GPU's AI capabilities. It is able to use AI for real-time security analytics, including identifying abnormal traffic, which could indicate theft of confidential data, encrypted traffic analytics at line rate, host introspection to identify malicious activity, and dynamic security orchestration and automated response.
Server manufacturers including ASUS, Dell, Gigabyte, Lenovo, and Supermicro have signed on to integrate the DPUs into their enterprise server offerings.
Other partners such as Check Point, Red Hat and VMware have also announced support of the BlueField-2 DPUs into their offerings.
For example, Check Point is integrating BlueField-2 GPUs into its cybersecurity technologies, while Red Hat plans to offer BlueField-2 support in its Enterprise Linux and OpenShift platforms.
BlueField-2 DPUs are expected to be included in systems from server manufacturers from 2021. Additionally, NVIDIA expects to release BlueField-2X DPUs in 2021.
Meanwhile, the NVIDIA DOCA software development kit provides a way for developers to build applications on DPU-accelerated data center infrastructure services. Developers can use the open platform for building software-defined, hardware-accelerated networking, storage, security and management applications running on the BlueField family of DPUs.
DOCA is fully integrated into NVIDIA's NGC software catalogue. The DOCA software development kit is available for early access partners immediately.