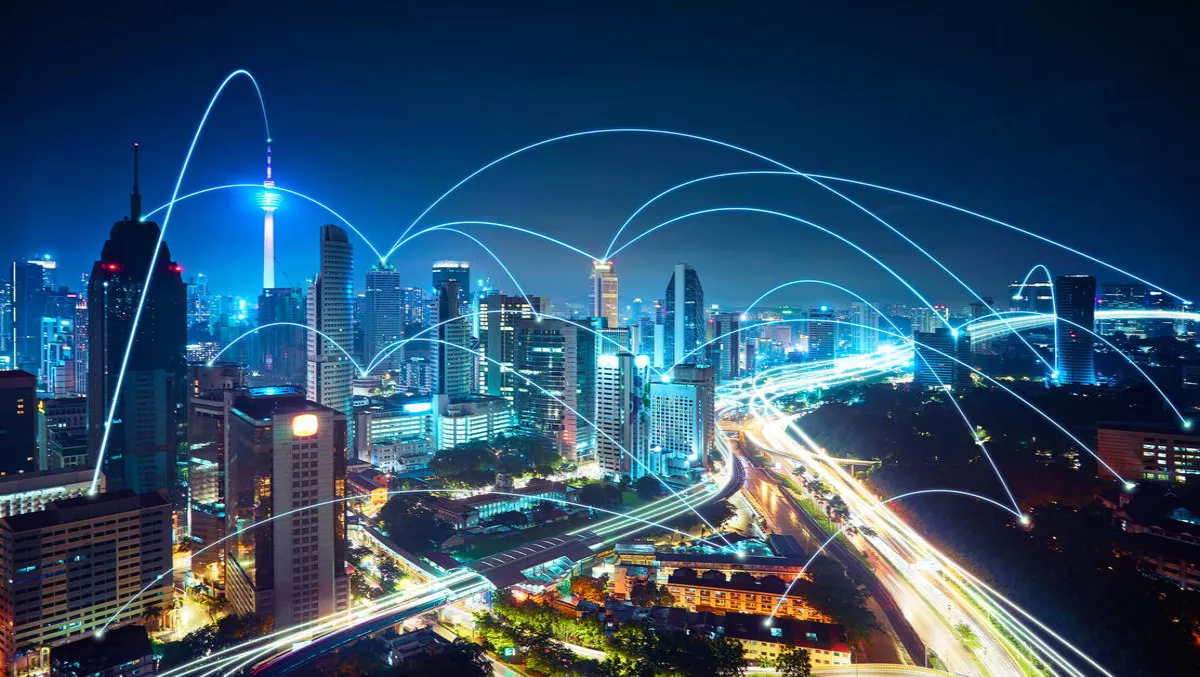 Equinix: Where opportunity connects to AWS - proximity matters
FYI, this story is more than a year old
Did you know that between 2016 and 2020, enterprise Interconnection Bandwidth capacity to cloud and IT service providers is expected to grow at an astounding 160% CAGR?
That's according to the recently published market study by Equinix, the Global Interconnection Index.
In the study, Interconnection Bandwidth is defined as the total capacity provisioned to privately and directly exchange traffic with a diverse set of counterparties and providers at distributed IT exchange points.
The majority of these IT exchange points can be found at the digital edge - where commerce, population centers and digital ecosystems meet.
The digital edge is also where businesses are competing in an expanding global marketplace that is driving a growing digital global economy.
For companies to gain value from and monetize all this digital growth, they require direct, secure and scalable Interconnection to people, locations, cloud and data.
As the Global Interconnection Index predicts, clouds are the sweet spot when it comes to where companies are focusing their Interconnection growth.
How Equinix and Amazon Web Services are transforming digital business
Equinix is the global Interconnection platform for the world's leading businesses.
Amazon Web Services (AWS) is a leader in on-demand cloud computing platforms.
Together, we are enablers of this new interconnected digital world.
Our two companies have collaborated for the past six years to help our customers solve their business challenges, drive better outcomes and make the journey to the cloud as easy as possible.
By enabling companies to place their mobile sales and payments, digital services and other digital products in proximity to dynamic cloud interconnection edge nodes, Equinix and AWS help digital companies conduct business in the cloud with:
Global data centers
Vibrant business ecosystems
A leading Interconnection solution
Global data centers get you in front of more opportunities
The Equinix International Business Exchange (IBX) data centers connect 9,500+ companies worldwide.
Our IBX facilities offer the broadest geographic reach, the largest choice in networks and the most efficient connectivity options for companies looking to interconnect.
Equinix and AWS have delivered dedicated Interconnection to AWS in over 21 locations worldwide to support businesses' diverse digital transformation goals in numerous industries.
AWS customers worldwide can now gain tremendous global access to a variety of solutions and services via Equinix's 180+ data centers in 44 markets in 22 countries, with 240,000+ cross connects, and the 70+ services offered by AWS, with 70 million+ hours of software consumed per month.
Equinix provides easy, secure, high-speed and low-latency connections to AWS cloud services in key metro areas globally, facilitating access to robust industry-based cloud capabilities and services to a large, vibrant user population.
By interconnecting to AWS via Equinix your digital business can:
Access cloud resources on a direct path through private, high-performance connectivity
Deploy scalable public and private clouds in a secure environment
Innovate a new class of edge-intensive applications and workloads
With this proximate, global access you can realize as little as 1 millisecond latency per round trip inside some of the most interconnected data centers in the world.
Vibrant business ecosystems create a rich value chain
When you interconnect all the core components of your business inside strategic edge locations - and interconnect all those locations -you create a network of high-performance hubs that drive all types of digital interactions with vibrant business ecosystems around the world, creating a rich value chain of partners around the world.
For example, we're enabling our financial services and digital payment customers to place their mobile sales and payments digital solutions and services in proximity to dynamic edge Interconnection solutions to directly and securely access AWS capabilities and other network, cloud and business partners.
That means they can conduct and grow their businesses by leveraging agile public cloud services and industry-specific ecosystems within an expanding global Interconnection and data center footprint.
By plugging directly into our vibrant business ecosystems via our Interconnection solutions, you will gain access to high-performance architectures for financial services, insurance, online advertising, media and entertainment, cloud, network, and many other industries across the globe.
This distributed network of Interconnection solutions brings you game-changing control over IT security, cost and scale—giving you transformative access to all your people, locations, clouds and data at the digital edge.
A large number of enterprises and service providers from every industry have chosen to colocate in Equinix data centers, which provide unrivaled Interconnection opportunities. Enterprise customers gain private access to hundreds of vendors, services and solutions via robust industry ecosystems in a secure environment, including SAP, Salesforce, F5, Rackspace, VMware and others.
Some Equinix and AWS enterprise customer use case examples include:
A medical industry association enhanced its multicloud cloud disaster recovery-as-a-solution platform via physical and digital security through Equinix, AWS, and partners NetApp and Datalink, reducing its recovery time for mission-critical applications by 9X, while protecting sensitive data with enhanced security and reliable compliance.
Ontario Systems, a leading provider of revenue recovery solutions, leveraged Equinix and AWS to power its integrated SaaS-based, VoIP customer contact management platform and is realizing single-digital latency (2ms) and up to 50% lower networking costs for its customers.
The world's leading internet television network, NetFlix, gained proximity to critical network and cloud providers, and increased its storage capacity and global reach for its media content delivery platform through Equinix and AWS, increasing its scalability to deliver the most streamlined path between its content and our end users.
Leading Interconnection solutions drive digital business powered by AWS
Why do so many leading enterprises in multiple industries come to Equinix to Interconnect to AWS?
Equinix and AWS combines AWS Direct Connect with Equinix Interconnection solutions to enable companies to connect their IT infrastructure directly to AWS with a dedicated connection in an Equinix IBX data center, establishing secure, network access to business apps and data, while bypassing the public Internet.
This enables your business to:
Obtain fast, secure and affordable access to AWS cloud services via AWS Direct Connect
Deploy a more cost-effective and efficient hybrid-cloud infrastructure
Maintain control over network, private data and other IT resources
AWS Direct Connect can be paired with Equinix cross connects for one-to-one interconnectivity or the Equinix Cloud Exchange for one-to-many virtualized connections.
This proximate Interconnection to AWS lowers latency and increases performance to accelerate businesses migration to the cloud and digital transformation strategies.
Article by Kaushik Joshi, Equinix Blog Network