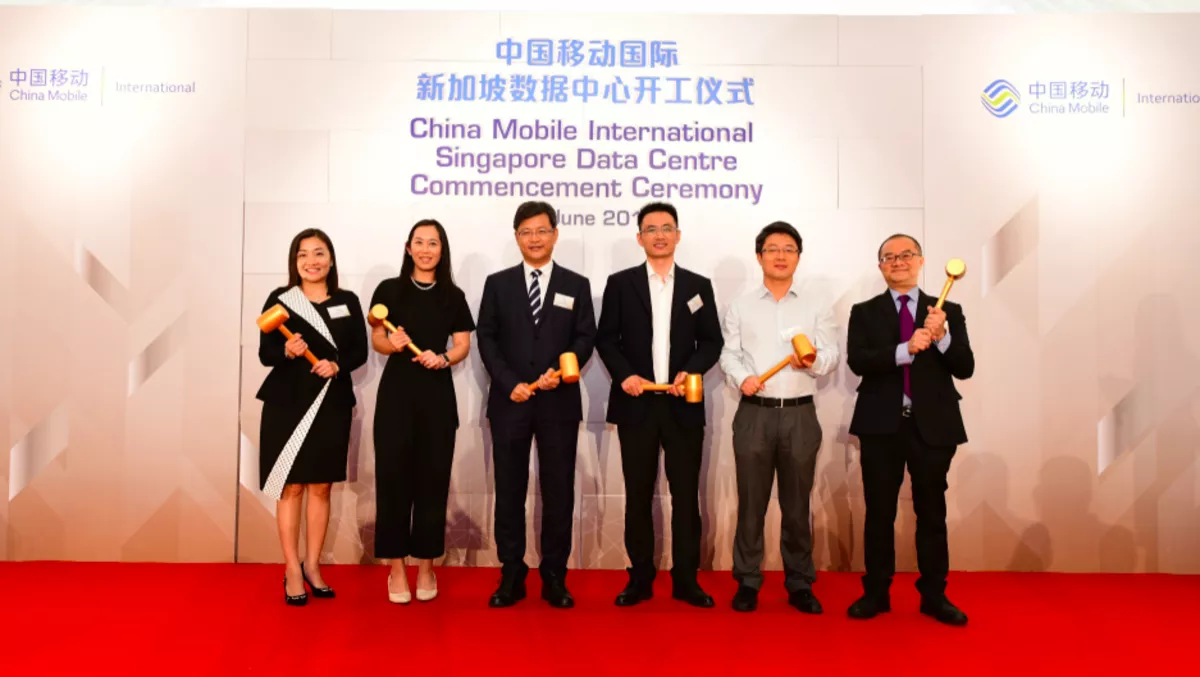 CMI celebrates construction of huge Singapore data center
China Mobile International (CMI) recently celebrated the construction commencement of its new data Singapore data center.
This will be the company's second self-built data center in Asia Pacific (joining its existing data center in Hong Kong) and one of the most significant network hubs outside of Mainland China.
The new facility in Singapore will coordinate directly with CMI's other overseas data centers together with its extensive global network resources to provide high speed connecting services including IPLC, IP Transit, voice, roaming, cloud computing and other one-stop communication solutions to global customers and partners.
The data center is located in Singapore Dacheng Industrial Park and has a gross area of 7,330 square metres and a construction area of 15,174 square metres with a total number of 2,100 racks.
CMI asserts the data center will feature futuristic technology facilities such as low energy consumption batteries, new modular UPS devices, DC and AC power supply, dual piping designs supporting CRAC cooling systems, and water cooling systems.
The data center has been designed to the standards of international Tier III+ standards and the company asserts it will soon become a world-class international communication hub.
"Singapore is the world's economic, financial and shipping center in the world. It is also an important fulcrum of the "One Belt One Road" initiative. CMI Singapore Data Center, being the first CMI overseas data center commencement of construction, marks the kickoff of CMI's global Data Center deployment," says CMI chairman and CEO Dr. Li Feng.
"The opening of the Singapore Data Center will combine the resources of submarine cable systems to strengthen core competitiveness of our infrastructure and facilitate the rapid development of connectivity, cloud computing, and CDN products. The launch of Singapore Data Center is a direct response to the enormous network demands of customers in Singapore and Asia Pacific.
CMI currently owns the rights of three APAC submarine cable systems, which include the SJC, APG, and SJC2, as well as the Asia to Europe cable system SMW5 which will be landing in Singapore. The company plans to continue its investment of submarine systems in Singapore with at least four other new submarine cable projects connecting Asia Pacific, Eastern Europe, America, and Oceania.
The company asserts it is committed to providing quality network connection services to China Mobile and its customers around the world, and its global deployment strategy involving POPs, cable systems, and data centers is the way to do it.
At the time of publication CMI has more than 40 terrestrial and submarine cable resources in the world with a total international transmission bandwidth of more than 27T, and a total of 138 POPs covering 60 countries and 91 hotspot cities worldwide.