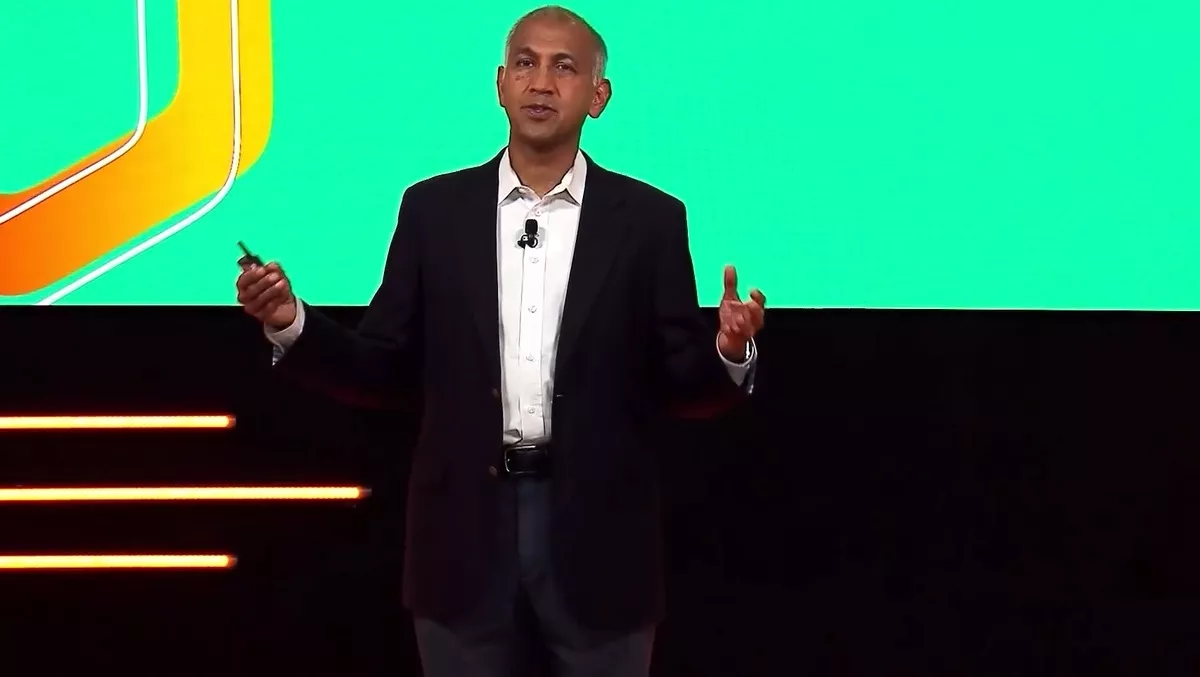 All the highlights from the opening keynote at Nutanix .NEXT
FYI, this story is more than a year old
'Cloud on your terms' is the theme of the opening keynote from the 2021 Nutanix .NEXT conference, hosted by chief marketing officer Ben Gibson.
Nutanix CEO Rajiv Ramaswami spoke about the importance of adaptation during the pandemic, and how technology enables businesses to keep operating and meet the needs of a distributed workforce.
"Toyota, the Japanese car maker with a global footprint, had to adapt to the reality of working remotely. The company designs cars through their 3D CAD environment on Nutanix VDI. They use these CAD models to work with manufacturing teams around the world, producing next generation automobiles. This setup has not just given them the ability to work remotely, but also have deeper and better interactions with 3D models, replacing paper drawings," he explains.
"Our focus now shift from business resiliency to targeted investments, as we return to growth, as you return to growth, you're focused on continuing your digital transformation, modernising your infrastructure, moving forward with your cloud strategy, and continuing to enable your distributed workforce.
Ramaswami referenced a recent Morgan Stanley report which suggested that CIOs may be moving less of their workloads to the cloud due to data governance, performance, and public cloud costs.
He also spoke to Andreessen Horowitz general partner Martin Casado about the true cost of public cloud, and how the cloud is an operating model - not a location. Ramaswami said, "That operating model is something that you can consume is on premise equipment, you can consume it as colocation or you consume it as servers over the public internet.
Ramaswami believes Nutanix's mission is to provide a simple, open hybrid multicloud software platform with rich data services to build, run, and manage any application. The company previously had 15 product offerings which have now been simplified into five key solutions.
"Our newly redesigned portfolio, offers a single platform for the hybrid multi cloud era. Whether your workloads are in a private cloud in a public cloud, or with managed service providers regardless of which app you use - databases, analytics, and user computing, or any other app of your choice.
Ramaswami says there are four key factors that help the company serve the hybrid multicloud market: its background as a data-centric company, performance and cost, ease of data mobility, and security and governance.
This week the company announced AOS version 6 software for the Nutanix Cloud Platform, which can provide business continuity and disaster recovery capabilities, and Flow Networking, a network virtualisation offering on the Nutanix AHV hypervisor. Ramaswami also detailed in-development capabilities for Nutanix Cloud Platform, including partnerships with Qualys.
Read more of our coverage below:
Nutanix chief commercial officer Tarkan Maner spoke to Red Hat's SVP customer success, Marco Bill-Peter, who discussed the partnership that enables joint customers to deploy applications with containers in hybrid cloud.
"There's a certified secure reproducible stack that customers can run the application. Customers also know they can rely on us. Nutanix HyperV is also a certified hypervisor. There aren't many certified hypervisors that can run Red Hat Enterprise Linux and Red Hat OpenShift - it's superb engineering and it marks the roadmap for the future," said Bill-Peter.
Nutanix SVP of marketing and cloud Monica Kumar spoke to Microsoft Azure Dedicated corporate VP Eric Lockard about the collaborations between the two companies within hybrid cloud, Microsoft Azure, and Kubernetes.
Nutanix CIO Wendy Pfeiffer hosted Mythbusters, cloud edition with guest panellists including Jason Ader from William Blair, Christian Abou Jaoude from USC Keck School of Medicine, Jason Stump from Wynn Resorts, and Zoom global CIO Harry Moseley. The panel discussed myths such as whether or not remote working really enables collaboration between staff as well as being in the office, whether cybersecurity is more of a concern on cloud vs on-premise, cloud consumption, cloud as an operating model, the most important element for hybrid operations, and more.
Tarkan Maner closed the event with a discussion with Citrix EVP of product management, Sridhar Mullapudi about the partnership between Nutanix and Citrix.
Mallapudi said, "As an industry we need to work together as an ecosystem of technologies in our customers' IT landscapes, to enable direction into new things like consumption-based services and multi-cloud services.
"We want to partner with market leaders who can provide that open, flexible platform for customers to accelerate Citrix and our solutions on Nutanix. For us, it was just a natural step to really take the partnership to the next level and work closely with Nutanix."
Register for Nutanix .NEXT here now for live and on-demand sessions - registration is free.
Full list of speakers from the opening keynote:
Nutanix CEO, Rajiv Ramaswami
Andreessen Horowitz general partner, Martin Casado
Nutanix chief commercial officer, Tarkan Maner
Red Hat SVP, customer success, Marco Bill-Peter
Microsoft Azure Dedicated corporate vice president, Eric Lockard
Nutanix chief information officer, Wendy Pfeiffer
USC Keck School of Medicine chief technology officer, Christian Abou Jaoude
Wynn Resorts CIO, Jason Stump
William Blair Co-Group Head of Technology, Media, and Communications Sector partner, Jason Ader
Zoom global CIO, Harry Moseley
Nutanix chief marketing officer, Ben Gibson
Citrix EVP of product management, Sridhar Mullapudi.