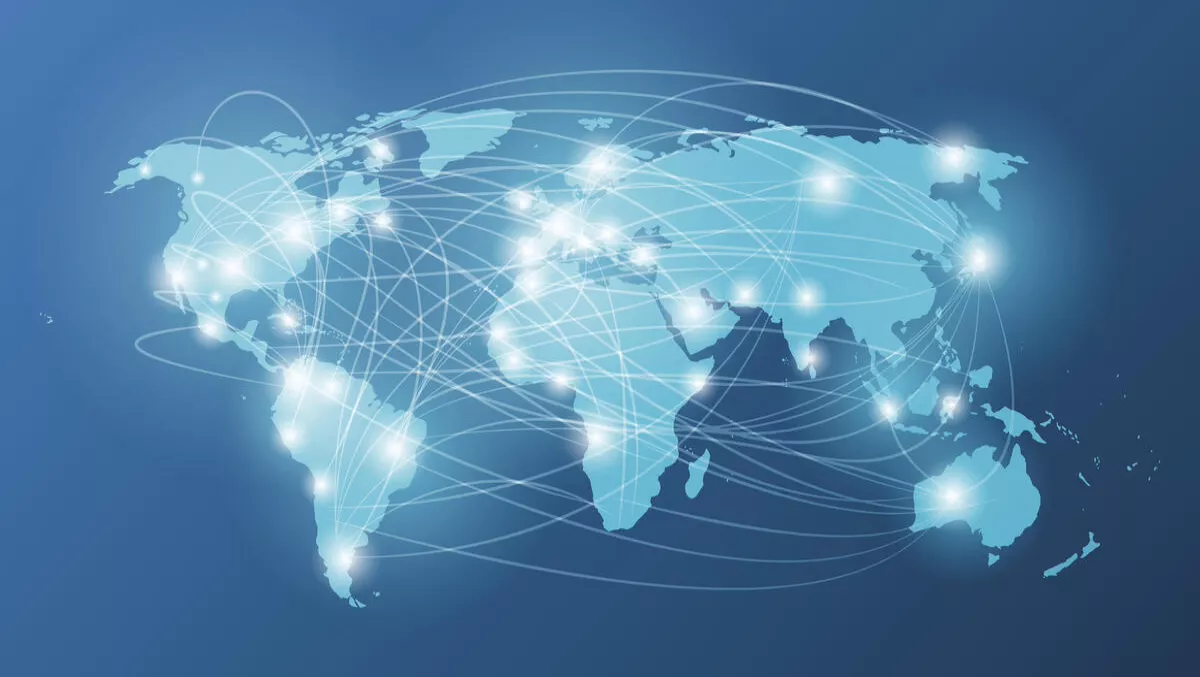 Why you need a "dataport" for globally transporting data
Built 158 years ago, the Great Eastern was an iron steam ship, 211 meters in length with a 14,000 ton cargo capacity. After several years as a 4,000-passenger ocean liner, traversing the Atlantic between Britain and North America, the "Great Babe" was converted into a cable-laying ship, and in 1866, laid the first transatlantic telegraph cable.
Today, subsea cables span the globe, connecting London with New York, Tokyo with Los Angeles and Singapore with Marseille – their track often following international shipping routes.
With the digitalization of the global economy, new data sources such as HD video and the Internet of Things are significantly increasing the amounts of data being transported globally. According to Cisco's "Visual Networking Index: Forecast and Methodology, 2015 – 2020" report, global IP traffic is expected to triple from 2015 to 2020, reaching 194.4 exabytes per month.
And, mobile business IP traffic will be the fastest growing sector at 47% CAGR by 2020, outpacing IP WAN and fixed business traffic. This increase in global data will not only increase the requirement for new subsea cable routes, but also the need for interconnection hubs to globally transport all of this data.
The Emergence of Interconnection Hubs or "Dataports"
Today's data communications require global, carrier-neutral interconnection hubs or "dataports," such as the Equinix Performance Hub, even before the data reaches subsea cables or other means of long-distance communications. A dataport hub is similar to an airport hub, which routes regional or international traffic via an expansive skyway.
Just as multiple airlines "meet" in airports, various network service providers terminate or interconnect multiple regional and international subsea cable and communications systems via a dataport within a colocation data center. And, it's not by accident that the location of these dataports is often close to other large metro hubs where the majority of people and data reside. Today's most important dataports are located in cities such as New York, Amsterdam, London, Frankfurt, Hong Kong or Singapore.
In most dataports, many fiber-based infrastructure operators have a vital interest to reach as many other operators at their cable termination points as possible. According to the 451 Research report, "Interconnection 101," "The value of an interconnection 'ecosystem' is growing and is already very large for companies in particular sectors, e.g., where groups of companies need to share large data sets (oil and gas, movie production, pharmaceuticals and genomics), or need to trade information (financial services trading ecosystems).
Facilities where the largest number of enterprises and service providers can meet have become extremely valuable. A good example of this is one of the world's largest Internet exchanges and Equinix partner, DE-CIX in Frankfurt, Germany, where more than 400 providers meet to exchange data.
Similar to the Frankfurt International Airport that transports people and cargo, this dataport is one of the most important data exchange hubs in Europe, especially between Western and Eastern Europe. However, in contrast to the Frankfurt Airport, with its more than 60 million passengers per year, DE-CIX transports more than 5.1 terabits per second of peak traffic.
Proximity Means Accelerated Interconnection
Just as the proximity to the end points of a global subsea cable system allows for fast interconnection across continents, the close proximity of users in dataports accelerates local interconnection, especially when both communications partners are directly connected to each other over private links.
For example, as a direct link between logistics companies, such as with Schenker and DHL, who both reside in Frankfurt's "Cargo City South," increases the speed of cargo delivery, enterprises and service providers will benefit if they meet in a location where their communications paths and data exchanges can directly converge.
Even large cloud providers, such as Microsoft, Google or Amazon, see these dataports as being very attractive for their business. That's because they can place the "production plants" for their cloud infrastructures in technically or commercially more lucrative locations, such as northern Scandinavia (for better cooling) or Ireland (for lesser taxes), and then route their data via large data exchange hubs to their customers in the fastest and most direct way.
And, more and more small cloud service providers, who rely on fast network connectivity, place their subsidiaries directly at, or in very close proximity, to large data exchange hubs with numerous network providers to save on expensive local "tails" to connect to multiple locations.
Read about the Equinix Performance Hub and learn how a carrier-neutral dataport, can increase your performance and reduce your bandwidth costs by 40% when globally transporting your data.