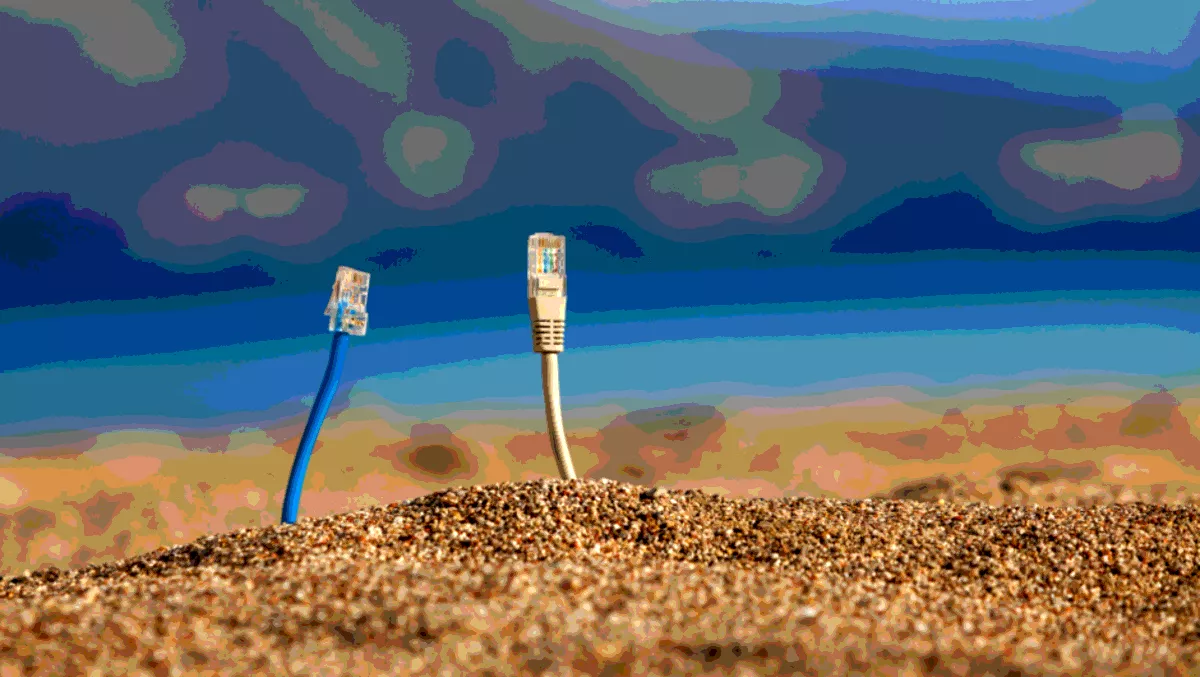 Subsea cable linking SG and AU lands at Perth – just 6,800km to go
After a long voyage from Christmas Island, approximately 2,400 kilometres of subsea cable today docked at Floreat Beach in Perth.
This marks the completion of the first phase of the roll-out, with the second section of the cable linking Singapore and Indonesia starting this month and forecast to be all wrapped up before the end of the year in late December.
Labelled INDIGO, the project has been funded by a consortium of companies that includes AARNet, Google, Indosat Ooredoo, Singtel, SubPartners, and Telstra. The group signed an agreement with Alcatel Submarine Networks (ASN) in April 2017 to build the INDIGO subsea cable system that will connect Singapore, Perth and Sydney, with two additional fibre pairs connecting Singapore and Jakarta via a branching unit.
There's no rest for the ASN cable ship (the Ile de Brehat) now that it's reached Perth though, as it will now be tasked with laying the INDIGO Central cable another 4,600 kilometres to link Perth to Sydney.
"The INDIGO submarine cable will usher in a new era of high speed communications between the growing economies of Southeast Asia and Australia," says Singtel Group Enterprise Carrier Services vice president Ooi Seng Keat.
"This new data superhighway will complement our existing global links to Asia, US, Europe, Australia and the Middle East and allow Singtel and Optus to meet the growing demand for bandwidth-intensive applications as well as boost network diversity and resilience. We look forward to Optus landing the INDIGO Central cable in Sydney in a few months' time which will further reinforce our position as the leading provider of international connectivity and data services in the region."
When complete and operational in approximately mid-2019, the INDIGO cable system will extend more than 9,200 kilometres to provide lower latency and enhanced reliability between Australia and Southeast Asia.
"This is an exciting time for AARNet. INDIGO is the first in a number of significant investments for research and education in Australia," says AARNet CEO Chris Hancock.
"INDIGO will provide the underpinning critical infrastructure to meet the future growth in collaborative research and transnational education between Australia and our important Asian partners. We are looking forward to the second INDIGO landing in Sydney."
The cable's two fibre pairs will be equipped to support up to 36 terabits per second, which is roughly akin to simultaneously streaming millions of movies per second.
"We are starting to see the benefits of our investment in infrastructure and software," says Superloop CEO Drew Kelton.
"The three key principles behind Superloop of fibre, wireless and Asia have never looked more compelling, relevant and timely."
Each consortium member will be able to independently take advantage technology advancements for future upgrades and capacity increases on demand.
"Once complete, the cable system will strengthen links between Australia and fast-growing South East Asian markets by providing the fastest speeds and dramatically improved reliability," says Telstra North Asia - Global Wholesale head Paul Abfalter.
"Our vast subsea network is a key part of our international growth strategy and we will continue to invest in additional capacity to meet the increasing demand for data and maintain our network leadership in the Asia-Pacific region."