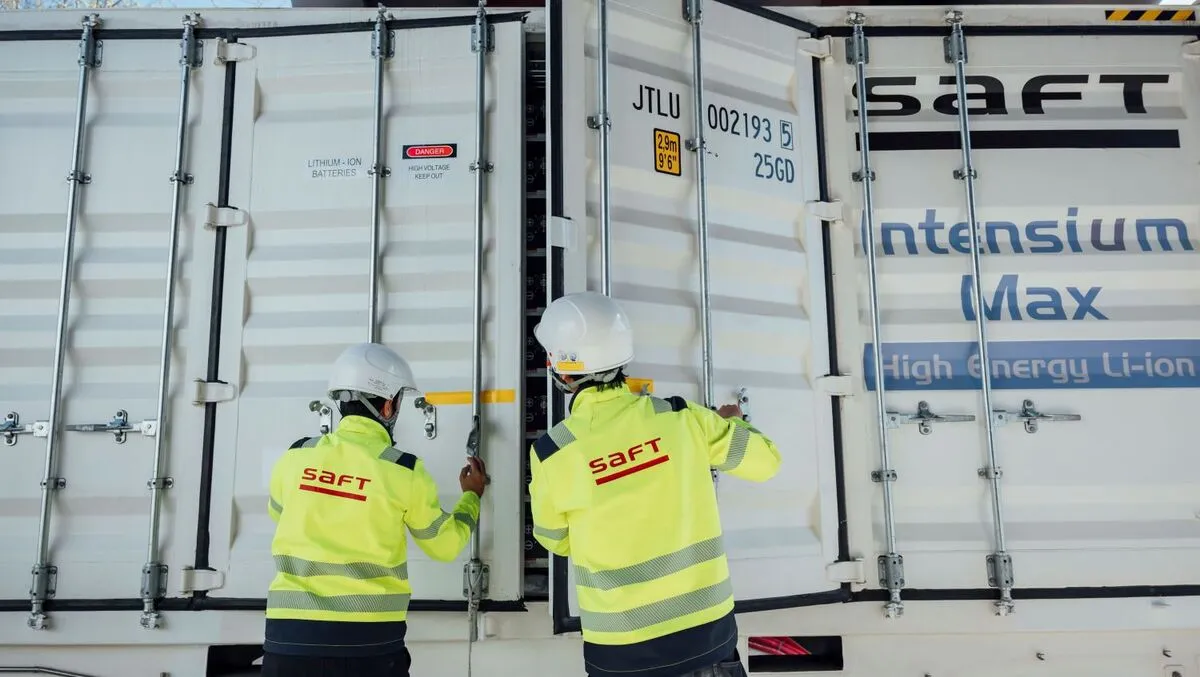 Saft replaces diesel generator with BESS at Microsoft's Swedish data centre
Wed, 4th Oct 2023
By Sean Mitchell, Publisher
Battery energy storage system (BESS) manufacturer Saft has delivered a turnkey project developed to replace a diesel backup generator at a Microsoft data centre situated in Sweden. This large-scale project highlights the potential for data centres to reduce their reliance on diesel-powered energy, in favour of more sustainable alternatives.
Paris-based Saft, a subsidiary of TotalEnergies, delivered the unique new system intending to help Microsoft reach its goal of diesel-free data centres by 2030. The BESS began operation in June 2023, providing up to 80 minutes of backup power, thereby marking a significant advance towards Microsoft's future energy usage vision.
The collaboration between Microsoft and TotalEnergies started back in March 2021 with an aim to create opportunities for wider deployment that would support their collective Net Zero goals. This endeavour, to replace diesel generators, historically crucial for power continuity in the event of a grid outage, has resulted in an innovative large-scale BESS that supplies four groups with an equivalent of 4 MWh for up to 80 minutes of backup energy.
"TotalEnergies is proud to support Microsoft in its goal to reduce its emissions from data centres", said Cédric Duclos, CEO of Saft. "The collaboration with Microsoft has allowed its affiliate Saft to deliver this system, which shows the huge potential for battery energy storage to decarbonise the digital industry."
Saft, in collaboration with Microsoft, deployed the BESS over 16 months by following Microsoft's approach to data centre architecture. Focusing on safety and reliability by creating backup systems in groups working independently has ensured a high redundancy level. Apart from replacing the diesel generator, the BESS supports grid stability and provides black start capability for rapid recovery of the power grid in case of an outage.
Eoin Doherty, General Manager, EMEA, Microsoft Cloud Operations & Innovation, stated, "Finding alternatives to diesel backup is an important step towards our 2030 goal to become carbon negative, and is integral to our 2050 goal to remove from the environment all the carbon that Microsoft has emitted since it was founded in 1975."
With the scope of the project spanning the delivery of an integrated power conversion and control equipment divided across four independent groups, the turnkey BESS project has a total of eight Intensium Max 20 High Energy containers organised into four groups, each capable of delivering a peak power rating of 3 MW.
As a specialist in advanced technology battery solutions, Saft is committed to aiding industries by designing, developing, producing, customising and providing service provision for longer-lasting batteries and systems. Saft continues to power critical safety applications, back-up power plants and propulsion systems for its customers, reflecting in their commitment to powering the industry, smarter cities and providing critical backup functionality}