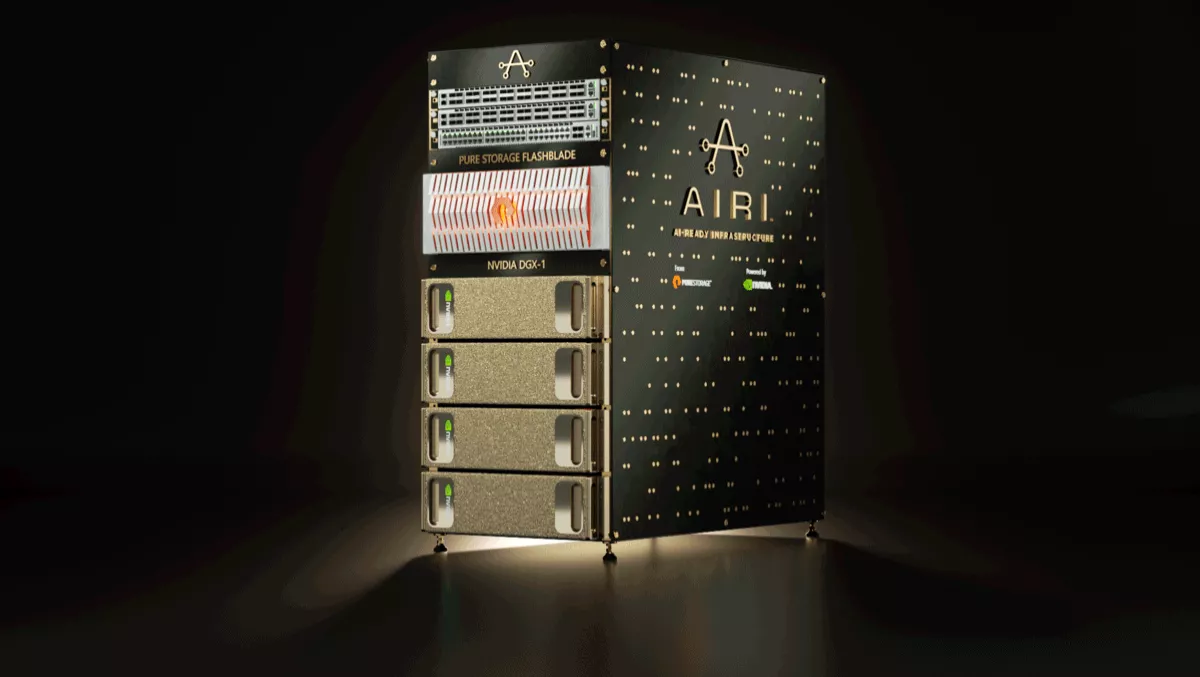 Pure Storage & NVIDIA unveil industry-first 'AI in a box' offering
Pure Storage has forayed into new grounds after announcing the industry's first comprehensive AI ready infrastructure.
Powered by NVIDIA and labelled 'AIRI', the fully integrated software and hardware solution has been purpose-built to extend the power of the NVIDIA DGX-1 and operationalise AI-at-scale for enterprise. The end goal, Pure Storage says, is to enable cloud, enterprise and government organisations to accelerate time-to-insight and bring new impactful innovations to humanity faster.
Pure Storage is certainly trotting the technology out at an apt time, as Gartner has forecast that by 2020 80 percent of enterprises will deploy AI.
"AI has fantastic potential for aiding humanity. It has the capacity to significantly improve the quality of all of our lives. Safer autonomous vehicles will save tens of thousands of lives and make us more efficient. AI-driven advances in life sciences have made preventative healthcare a current reality rather than a vague future possibility," says Pure Storage CEO Charles Giancarlo.
"AI will provide highly personalised experiences for the consumer, while keeping online communities safer. AIRI will accelerate AI research, enabling innovators to more rapidly make advances to create a better world with data."
AIRI has plenty of juice and is powered by Pure Storage FlashBlade and four NIVIDIA DGX-1 supercomputers, delivering four petaFLOPS of performance with NVIDIA Tesla V100 GPUs. These systems are then interconnected with Arista 100GbE switches, supporting GPUDirect RDMA for maximum distributed training performance.
The platform is also supported by the NVIDIA GPU Cloud deep learning stack and Pure Storage AIRI Scaling Toolkit.
"Businesses everywhere are scaling-up AI infrastructure to attack their most important challenges and opportunities," says NVIDIA vice president and general manager of deep learning systems Jim McHugh.
"With AIRI, our customers get a validated approach that brings together industry-leading compute and high-performance storage with proven results.
IDC research director Ritu Jyoti says every organisation generates and stores troves of data (regardless of whether they utilise an on-premise data center or cloud), with no signs of the growth slowing. Now more than ever, innovators require additional insight to make their businesses work smarter.
"AI has evolved from hypothetical future technology to a business-critical strategic asset. There is increased adoption of AI across all verticals, driving new business models, sharper value propositions, more efficient processes, and personalised user experiences," says Jyoti.
"Innovative technologies from Pure Storage and NVIDIA have enabled the accelerated adoption of AI, and together they provide organisations with an optimised, easy-to-use and robust solution for any AI workload."​
AIRI is essentially an AI solution straight out of the box, something Global Response took advantage of recently to reinvent existing business models.
"We've reached an inflection point where integration of AI throughout our organisation is critical to the ongoing success of our business. While we wanted to move quickly, infrastructure for AI was slowing us down because it is very complex to deploy," says Global Response Co-CEO Stephen Shooster.
"To truly operationalise AI at scale, we needed to build a simple foundation powerful enough to support the entire organisation. AIRI is that foundation. All of the question marks and complexities associated with AI are solved, with a solution that integrates state-of-the-art software and hardware to enable our teams to get up and running in hours, not weeks or months.
At the moment (and for the foreseeable future) AIRI is to be sold exclusively through Pure Storage's channel partners.