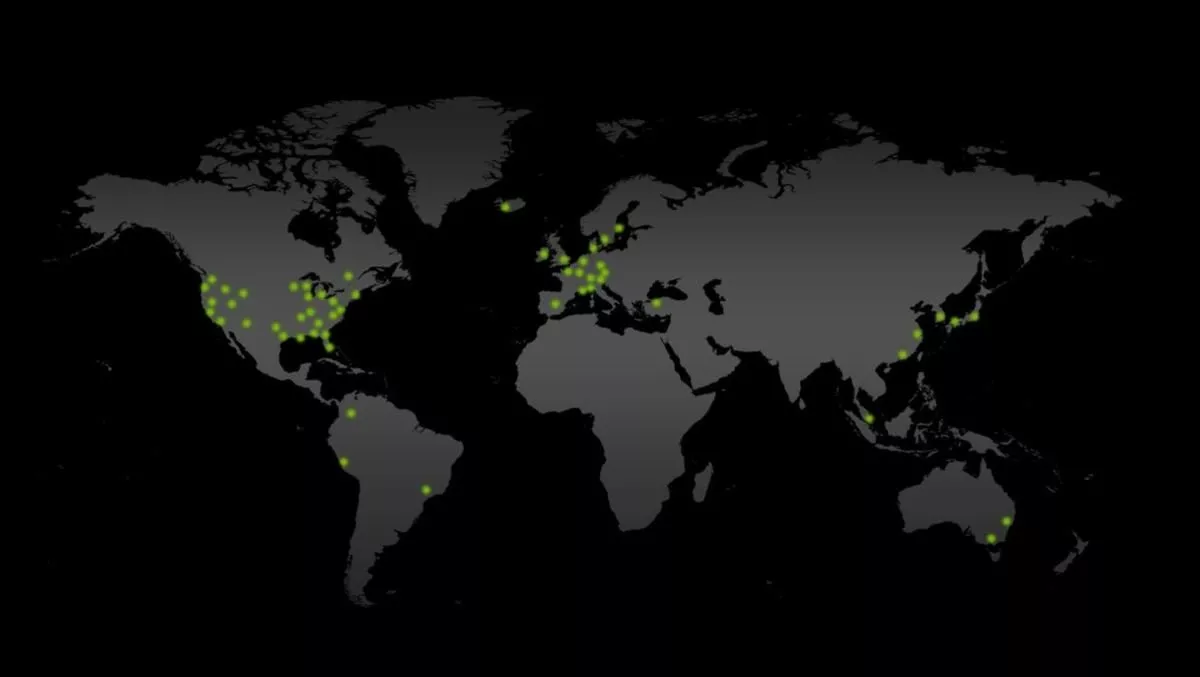 NVIDIA expands DGX-Ready Data Center program globally
Mon, 15th Jul 2019
FYI, this story is more than a year old
NVIDIA's DGX-Ready Data Center program has now gone global, with the addition of 10 new partners around the world.
The program is designed to aid companies in finding modern data center facilities for their artificial intelligence-based infrastructure.
The program is now available in 24 markets, thanks to five new partnerships in Asia, three new partnerships in Europe, and two new partnerships in North America. There are now 19 validated partners in NVIDIA's global network.
One of those partners is Japan-based Fujitsu Yokohama Data Center, which hosts 'dozens' of NVIDIA AI systems.
"The Fujitsu Yokohama Data Center hosts more than 60 NVIDIA DGX-1 and DGX-2 systems," comments Fujitsu director Hisaya Nakagawa.
"As a DGX-Ready Data Center program partner, we're able to offer customers our world-class, state-of-the-art facility to run their most important AI workloads. With this program, customers can operationalise AI infrastructure swiftly and enjoy a jumpstart on their business transformation," continues Nakagawa.
According to NVIDIA, DGX-Ready Data Center partners "offer world-class facilities to host DGX AI compute infrastructure, giving more organisations access to AI-ready data center facilities while saving on capital expenditures and keeping operational costs low".
The program also offers services that can reduce the risks associated with new infrastructure investment.
Select DGX-Ready colocation partners are adding 'try-and-buy' options that let enterprises 'test drive' their DGX infrastructure. Customers can gain valuable operational experience before they decide to deploy these systems in their own data center. Core Scientific and Flexential are among the first partners to offer this capability.
Additionally, select partners offer GPU-as-a-service options that let businesses access DGX-powered compute in an affordable model, without committing to a full system.
Mobile game developer Jam City is one customer that is taking advantage of the capability to accelerate its game development using Core Scientific's AI-Optimised Cloud, powered by NVIDIA DGX.
"We're relying on machine learning and artificial intelligence to guide game design and transform our business," says Jam City chief data officer Rami Safadi.
"Core Scientific's cloud has enhanced how we utilise data and allowed us to analyse billions of rows of data per day. We've seen an 8x increase in speed, enabling us to train an entirely new set of winning AI business models.
The company has created a new DGX-Ready Data Center portal to help customers navigate NVIDIA's global network of providers.
The DGX-Ready Data Center program is now offered in 24 markets, including Australia, Austria, Brazil, Canada, China, Colombia, Denmark, France, Germany, Hong Kong, Iceland, Ireland, Italy, Japan, the Netherlands, Peru, Singapore, South Korea, Spain, Sweden, Switzerland, Turkey, the United Kingdom, and the United States, with more coming soon.