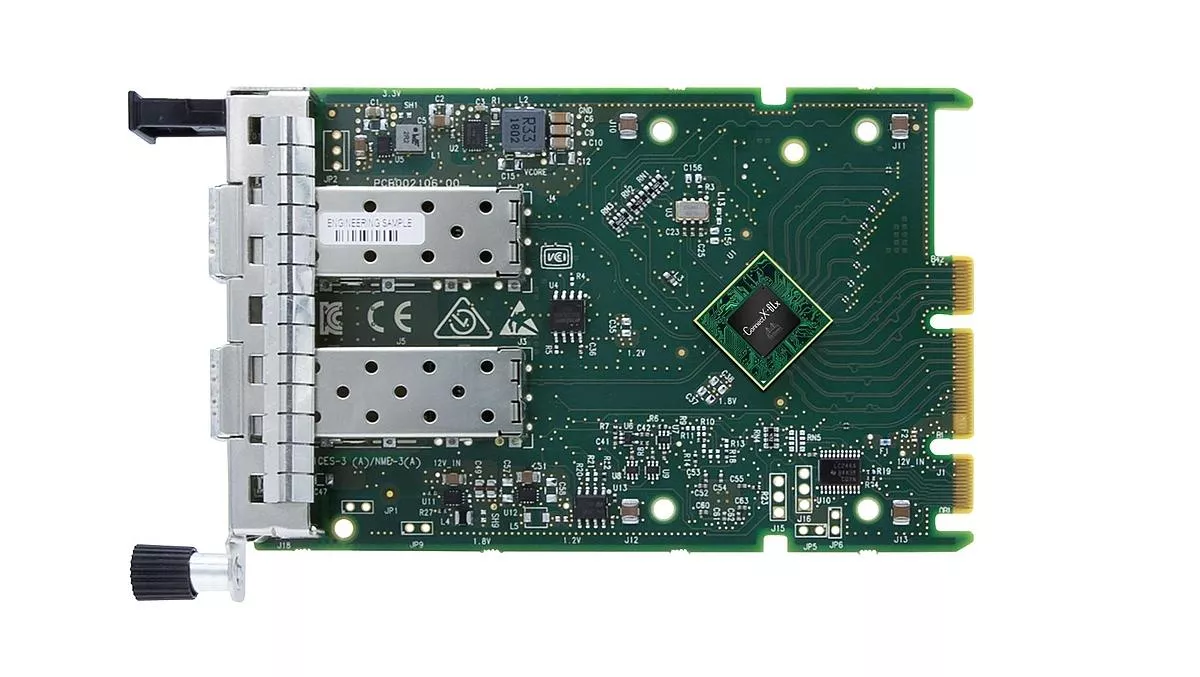 NVIDIA announces new Mellanox SmartNIC for the modern data center
Fri, 15th May 2020
FYI, this story is more than a year old
NVIDIA says its newly-announced smart network interface controller (SmartNIC) is designed for the new era of the modern data center as the world experiences 'surging growth' in both enterprise and cloud scale-out workloads.
The NVIDIA Mellanox ConnectX-6 Lx SmartNIC, the 11th generation product in NVIDIA's ConnectX family, will deliver 25/50 gigabits per second through ethernet – an industry standard for handling demanding workflows like real-time analytics.
NVIDIA says the new SmartNIC draws on software-defined, hardware-accelerated engines to alleviate the bulk of network and security processing power typically applied to CPUs.
According to NVIDIA Mellanox senior vice president of software and NIC products, Amit Krig, modern data centers rely on accelerated networking to meet both compute and scalability challenges. This is a key component of the new solution for disaggregated, composable data centers.
Security features include IPsec in-line cryptography, and hardware root of trust. NVIDIA also states there is a 10x boost in performance for connection tracking.
Technology research firm Futuriom's founder Scott Raynovich says the server industry is rapidly imposing new requirements on the network, which means SmartNICs must perform more offloads.
Red Hat director of networking Rashid Khan adds, "Security is critically important for any enterprise data center or cloud deployment. We worked closely with Mellanox to develop Connection Tracking, which helps drive secure upstream and downstream networking capabilities. Connection Tracking enables software-defined networking and security to lock down critical resources and data; it offers stateful security at each server, and can be offloaded onto Mellanox ConnectX SmartNICs, reducing CPU cycles for optimal hardware utilization.
The Mellanox ConnectX-6 Lx provides:

● Two ports of 25Gb/s, or a single port of 50Gb/s, Ethernet connectivity with PCIe Gen 3.0/4.0 x8 host connectivity
● Security features including Hardware Root of Trust, Connection Tracking for stateful L4 firewalls, and in-line IPSec cryptography acceleration
● GPUDirect RDMA acceleration for NVMe over Fabrics (NVMe-oF) storage, scale-out accelerated computing and high-speed video transfer applications
● Zero Touch RoCE (ZTR) for scalable, easy-to-deploy, best-in-class RoCE without switch configuration
● Accelerated switching and packet processing (ASAP2), with built-in SR-IOV and VirtIO hardware offloads for virtualization and containerization, to accelerate software-defined networking and connection tracking for next-generation firewall services
Nvidia completed its acquisition of Mellanox late last month. The acquisition, worth US$7 billion, enables NVIDIA to move further into networking technology.
"Our combined expertise, supported by a rich ecosystem of partners, will meet the challenge of surging global demand for consumer internet services, and the application of AI and accelerated data science from cloud to edge to robotics," says NVIDIA's CEO Jensen Huang at the time.