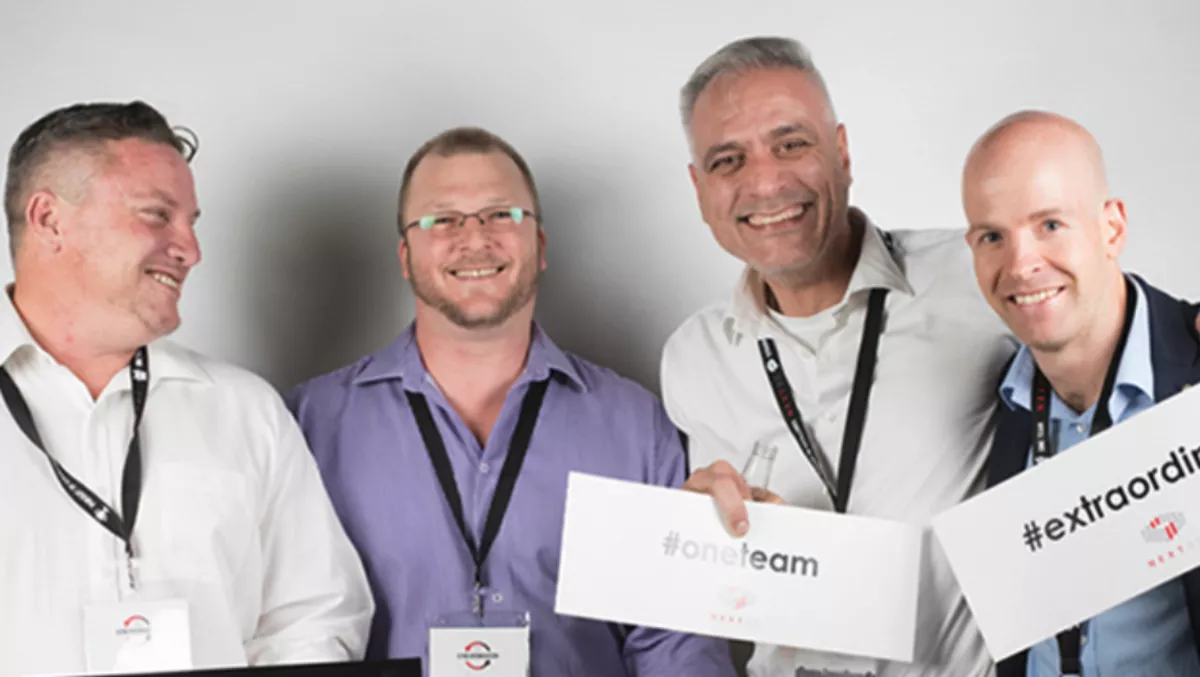 NEXTDC makes strategic investment to drive new data centre solutions
Pictured above L-R NEXTDC employees Adrian Spratt, Karl Langkilde, George Dionisopoulos and Adam Gardner
NEXTDC has revealed its plans to accelerate its influence in the field of data-centre-as-a-service in Australia.
The company has announced a new senior appointment with Adam Gardner joining NEXTDC as head of products.
Gardner comes to NEXTDC from Vocus Communications where he held the role of general manager of data centers, charged with leading the operation and integration of both Vocus owned and third party data center portfolios with the goal to foster an exemplary customer service across Vocus' 20 data centers.
According to NEXTDC, the new appointment is a strategic investment that is part of the company's new product development and services game plan.
"NEXTDC continues to pursue aggressive growth plans and Adam Gardner's appointment is to further accelerate the development of our industry leading Data-Centre-as-a-Service platform that powers, secures and connects the infrastructure of the digital economy" says NEXTDC chief customer officer and execiutive vice president of technology David Dzienciol.
Gardner has a strong background in the data center industry with more than a decade's worth of experience in managing operational requirements of various facilities throughout Asia Pacific. It's this experience that NEXTDC is looking to utilise to drive its evolving production vision, enhancing its AXON elastic cloud on-ramp and DCI network solutions portfolio – in addition to supporting the launch of a new generation of data center facilities.
NEXTDC says a major objective for Gardner and his team will be to expand the company's product portfolio with the goal to extend its range of offerings.
"With UTI Tier III and IV facilities and gold operational sustainability as the baseline, and NABERS 5 star and sustainable energy in the future, it's an exciting time to join Australia's most innovative data center provider," says Gardner.
NEXTDC affirms Gardner's product and strategy team will be focusing on optimising the company's ONEDC data center intelligence platform, launching new products and services to market, releasing a new generation of facilities, and managing unique partnerships with carriers and cloud providers.