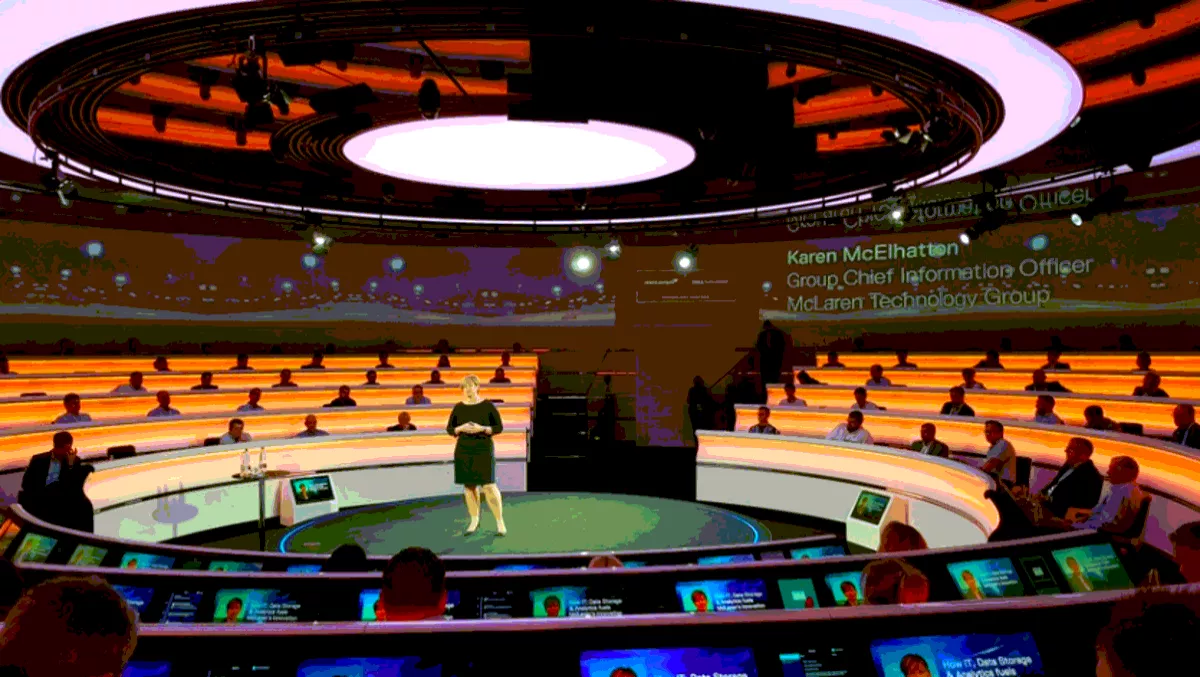 McLaren CIO reveals how Dell has transformed data centre practices
FYI, this story is more than a year old
Recently I was given the opportunity to attend a media event at the McLaren headquarters in Woking, England.
Founded in 1963, McLaren won its first Formula 1 championship in 1974 and is now the second oldest active team and one of the most successful that participates in a sport that hinges on technology, making data collection and analysis without question utterly crucial.
It was only in April this year when Karen McElhatton was appointed as Group CIO, but already she has made an impact and was happy to share her experiences thus far.
Click here to view some photos from the event.
In an effort to get on top of the skyrocketing amounts of data involved (the car alone has around 300 sensors collecting enormous amounts of data), McLaren partnered with Dell EMC a few years to harness its hyperconverged infrastructure.
"Dell has been an amazing partner and our relationship with the company has expanded over the years. We've been able to work with Dell to really improve some of the capabilities that we're delivering - particularly to our race team," says McElhatton.
"All our businesses share motorsport as a heritage and with that comes an absolute love of data. Data drives everything that we do. It also creates a passion for simulation and predictive analytics so there is a high level of computing power required.
McElhatton says they have two data centers at the McLaren Technology Centre in Woking, but almost every weekend they also have to set up a data center at a track – and some of those situations are less than hospitable as they're not the ideal locations to set up hardware.
"Dell has helped us by providing hyperconverged systems to allow us to process the data that comes from the 300 sensors on the car, while also helping us to make some really clever strategic decisions and then pump some of that data back to mission control here in Woking," says McElhatton
"Decisions are made in real-time between the team in Woking and the team on the track, and the way that we can do that is by really high speed and reliable decision making, which is only possible through a low latency, high availability environment that Dell has supplied for us.
I asked McElhatton to delve a bit further into the obstacles and challenges behind having to construct and deconstruct a data center almost every week – including security.
"We've effectively got a standard data center on track, which is how we secure it. It basically has the same amount of security as the data centers within our Woking headquarters. Which is why we need hyperconverged infrastructure as it allows us to transport, set up, and deconstruct our on-track data center much faster and more efficiently than before," sats McElhatton.
"We have been doing it for a very long time. One of the biggest changes that we did a few years ago with Dell was to bring in some hyperconverged equipment and that has really simplified getting things at the track, as well as allowing us to do it much faster.
McElhatton says the solutions from Dell EMC have helped her team to become significantly more efficient, consequently allowing them to work on other sectors. For example, did you know the McLaren Group also does work in public transport, healthcare, and airports (among other things)?
"The applied technologies business does a lot of work in things like the recently announced Singapore mass rail transport system, where they are working to start to predict failures and ultimately reduce the impact on commuters in the Singapore environment by helping them to understand when things are going to go wrong," says McElhatton.
"What they've been able to do is take the learnings that we've developed through our predictive capabilities in the Formula 1 car and apply it into public transport where we're hoping to create efficiency in the Singapore rail system.
The Group has developed a virtual dynamic simulator that is used by some of the largest car manufacturers around to help develop road cars.
And then there is the age-old issue of gender diversity in IT – something that McElhatton is looking to rectify with her team.
"In terms of the female to male diversity in my IT team, I'm always going to say not enough. But we've got a very diverse business, which includes gender. When I look at my team I aim to have diverse thinking, different backgrounds because that's the nature of the business I serve. Brilliant ideas come from diversity," says McElhatton.
To conclude, McElhatton says they have some exciting innovations coming in the near future and the Dell partnership has helped bring these technologies to life.