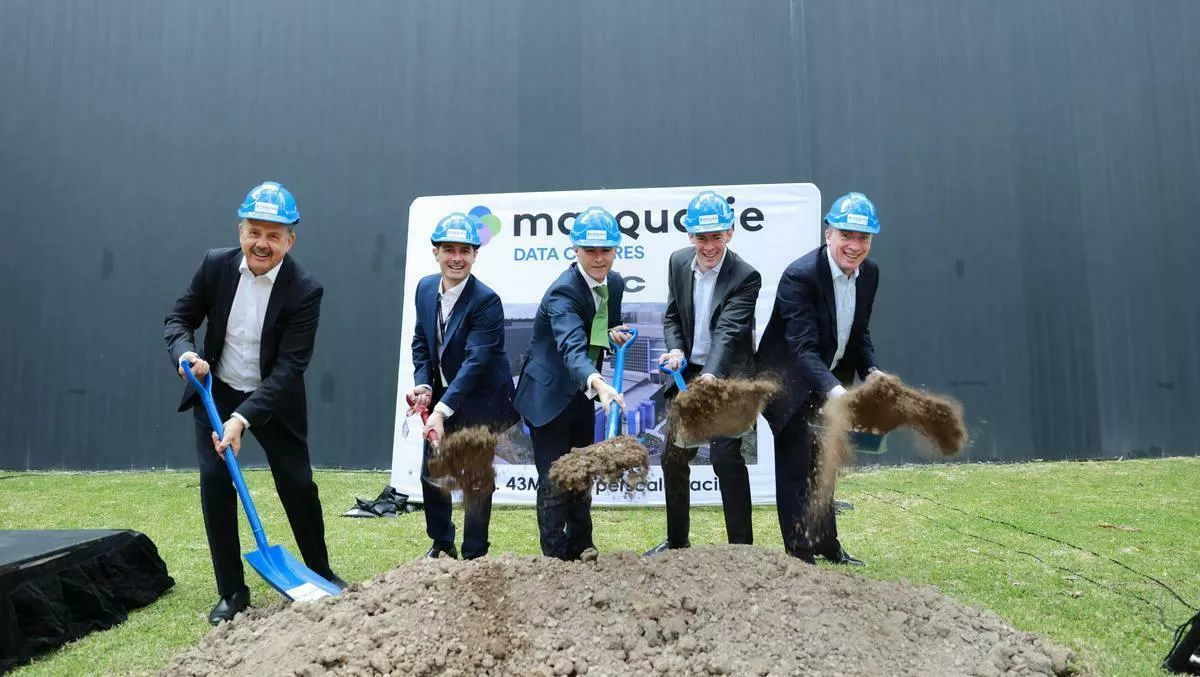 Macquarie Data Centres 'breaks ground' on $80m Sydney data centre
By Sara Barker,
Tue 10 Dec 2019
FYI, this story is more than a year old
Macquarie Data Centers is 'breaking ground' on a new Intellicentre 3 data centre, to be built in Sydney, Australia.
The $80 million IC3 East data centre will be located in the Macquarie Park Innovation District and scheduled for completion in H2 2020. It will also increase the existing Macquarie Data Centre Campus capacity to 43 megawatts.
Macquarie Data Centres group executive David Hirst says the facility will supplement its experience, customer service and security credentials, which are trusted by "42% of Australian Federal Government Agencies.
"Sovereignty, cybersecurity and compliance standards are more vital than ever to protect the data and infrastructure of businesses in Australia," explains Hirst.
"Our 18-year data centre experience and security posture make IC3 an ideal inroad for US and other multinational companies to enter the thriving Australian market."
Macquarie Data Centres expects that the IC3 East data centre will be an ideal facility for hyperscalers, software-as-a-service (SaaS) providers and global enterprises looking to capitalise on the expanding technology hub of Sydney and increasing adoption of cloud infrastructure in Australia.
Upon opening, IC3's credentials will include SCEC Zone 3 or higher, SOC 2, Uptime Institute Tier III, PCI-DSS and ISO 27001 certifications.
"The scale of this facility recognises the increased demand across both our colocation and dedicated multi-megawatt IT loads," says Hirst.
"IC3 has been designed to meet the specific technical requirements of global multinational businesses whilst offering the highest security standards required of the Australian Federal Government."
Member of Parliament and Minister for Customer Service Victor Dominello attended the opening ceremony. He believes the new data centre will deliver a boost to the local community.
IC3 will create approximately 1,200 jobs in construction, engineering and architecture and require around 400,000 working hours to complete.
Construction firm FDC will complete the construction using 250,000 kilometres cable to be built into the facility. When complete, it will be able to power the equivalent of 12,500 homes.
FDC Construction managing director Ben Coddle says, "FDC is proud to partner again with Macquarie Data Centres on its IC3 facility in Macquarie Park."
"As our fourth project together, we look forward to being part of Macquarie Data Centre's growth and success strategy going forward."
"Rapid technological change is the new norm and this centre will play a pivotal role in helping organisations prepare for future challenges and opportunities," concludes Dominello.
IDC recently revealed public cloud services in Australia expanded by more than 30% to AU$4 billion (approx. US$2.75 billion) in 2018, with SaaS accounting for two thirds of spend as organisations seek to remain competitive in today's digital economy.