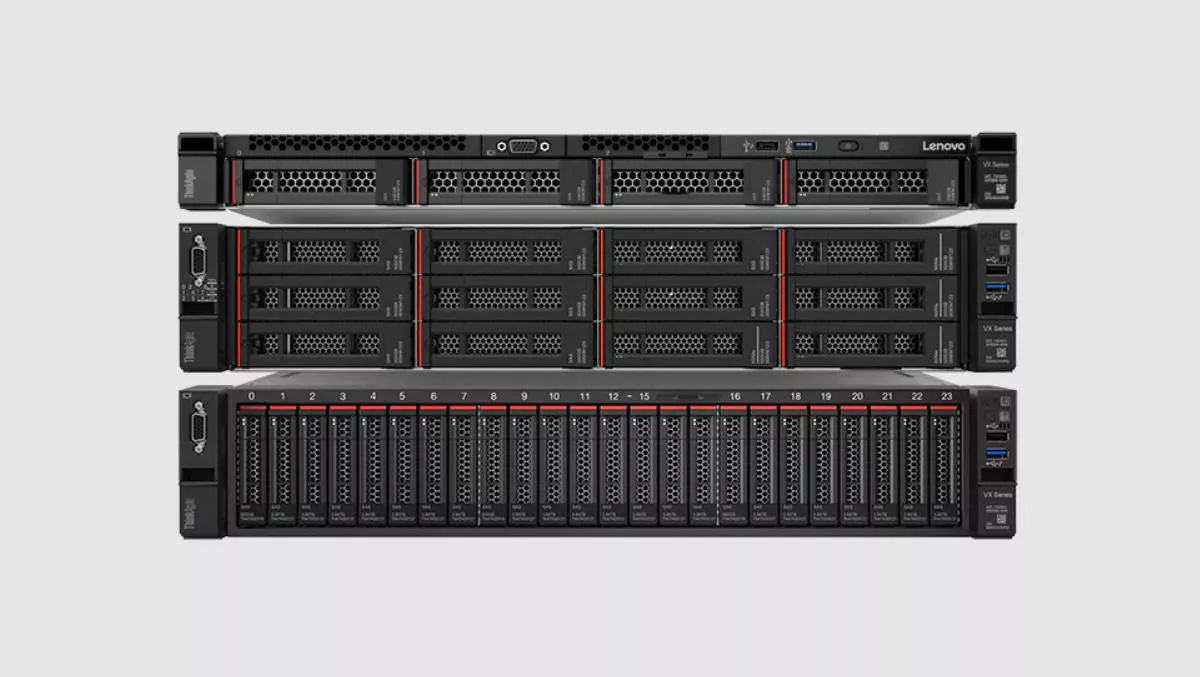 Lenovo DCG onboards AMD's new EPYC processors
By Newsdesk
Wed, 17th Mar 2021
FYI, this story is more than a year old
Lenovo Data Center Group has revealed details of its new servers and solutions containing AMD's new EPYC 7003 processors, which were officially launched to market this week.
Lenovo's ThinkAgile VX series hyperconverged platforms now feature the EPYC 7003 processors and are integrated with VMware's vSAN for private and hybrid clouds.
ThinkAgile VX3575-G: Designed for compute-heavy applications such as VDI and AI workloads with the ability to support up to eight NVIDIA GPUs
ThinkAgile VX5575: Offers a storage-dense 2U solution for fast, high-capacity storage applications including email management, data, and analytics
ThinkAgile VX7575 and ThinkAgile VX7576: Optimised 2U for high-performance workloads such as analytics and databases
Third-generation AMD-based Lenovo ThinkAgile VX solutions will be available in the second quarter of 2021
Lenovo has also updated its ThinkAgile HX series HCI solutions, the ThinkAgile HX3375 and ThinkAgile HX3376, with Nutanix. The updates provide data protection, increased workload density, and hybrid architecture. Third-generation AMD-based ThinkAgile HX solutions will be available in the third quarter of 2021.
"Organisations are accelerating their IT infrastructure transformation and shifting investments to focus on more agile edge-to-cloud solutions," says Lenovo Data Center Group's vice president and general manager of Server, Storage and Software Defined Infrastructure, Kamran Amini.
Lenovo has also introduced new ThinkSystem servers with the AMD EPYC 7003 series processors. These servers include the ThinkSystem SR645 and SR665 and Lenovo ThinkSystem 1 socket SR635 and SR655 servers.
According to Lenovo, organisations using accelerators and GPUs may experience 25% improvement in system performance and greater VDI density when using heart-of-the-market 16 core AMD EPYC 7003 series processor, when compared to the previous generation of servers.
The third-generation AMD based 2-socket ThinkSystem SR645 and SR665 servers will be available this month; the 1-socket ThinkSystem SR635 and SR655 servers will be available in June.
"Moving the bar once more for workload performance, EPYC 7003 Series processors provide the performance needed in the heart of the enterprise to help IT professionals drive faster time to results," says AMD's corporate vice president of EPYC product management, Ram Peddibhotla.
Lenovo has included its security system ThinkShield as part of its ThinkSystem and ThinkAgile portfolio.
ThinkShield security capabilities added this week include:
New standards-compliant NIST SP800-193 Platform Firmware Resiliency (PFR) with Root of Trust (RoT) Hardware to provide key platform subsystem protection against cyber attacks, unauthorised firmware updates and corruption.
ThinkShield also includes discrete security processor testing validated by third-party security firms – available for customer review, providing unprecedented transparency and assurance.