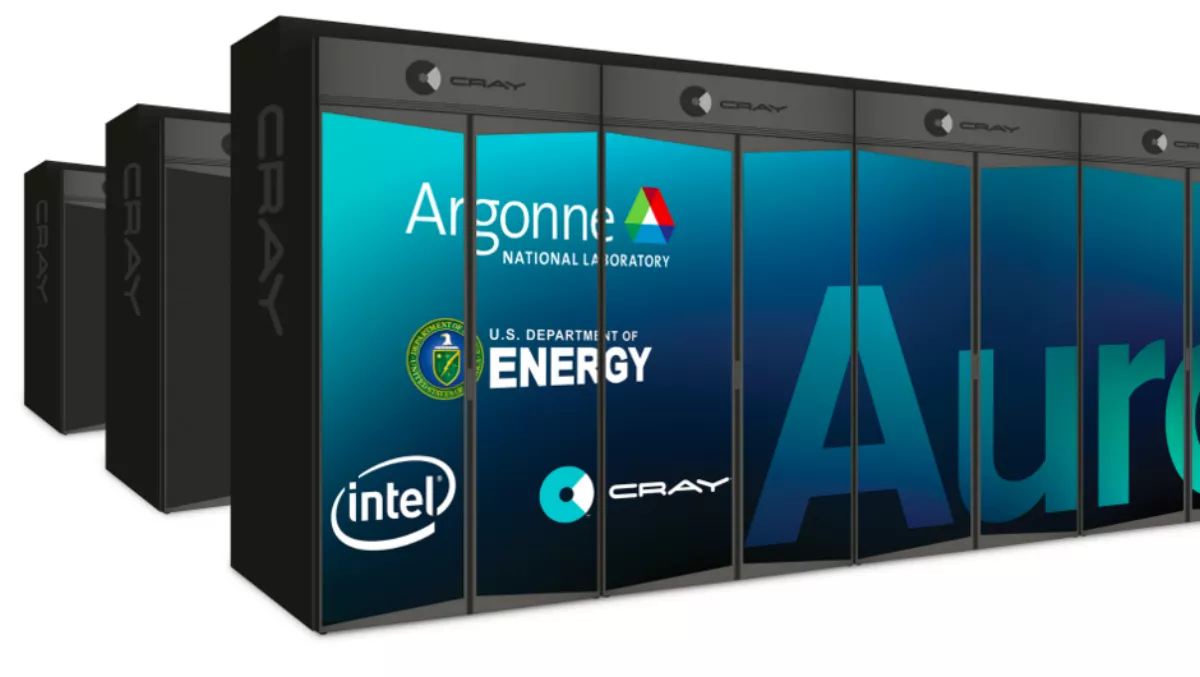 Intel building US's first exascale supercomputer
By Newsdesk
Tue, 19th Mar 2019
FYI, this story is more than a year old
Intel and the United States Department of Energy are building potentially the world's first exascale supercomputer, capable of a quintillion calculations per second.
Named 'Aurora', the system being developed at the Department of Energy's (DOE's) Argonne National Laboratory in Chicago will be used to dramatically advance scientific research and discovery.
The contract is worth more than US$500 million and will be delivered by Intel and sub-contractor Cray due for completion in 2021.
US Secretary of Energy Rick Perry says the Aurora system's exaFLOP of performance combined with an ability to handle both traditional high-performance computing (HPC) and artificial intelligence (AI) will provide researchers with an unprecedented set of tools to address scientific problems at exascale.
These research projects range from developing extreme-scale cosmological simulations, discovering new approaches for drug response prediction and discovering materials for the creation of more efficient organic solar cells.
"Achieving exascale is imperative, not only to better the scientific community, but also to better the lives of everyday Americans," says Perry.
"Aurora and the next generation of exascale supercomputers will apply HPC and AI technologies to areas such as cancer research, climate modeling and veterans' health treatments. The innovative advancements that will be made with exascale will have an incredibly significant impact on our society.
Having beat out other vendors like IBM and Nvidia, Intel CEO Bob Swan is over the moon with the deal.
"Today is an important day not only for the team of technologists and scientists who have come together to build our first exascale computer – but also for all of us who are committed to American innovation and manufacturing," says Swan.
"The convergence of AI and high-performance computing is an enormous opportunity to address some of the world's biggest challenges and an important catalyst for economic opportunity.
The foundation of the Aurora supercomputer will be new Intel technologies designed specifically for the convergence of artificial intelligence and high-performance computing at extreme computing scale.
These include a future generation of the Intel Xeon Scalable processor, Intel's Xe compute architecture, a future generation of Intel Optane DC Persistent Memory, and Intel's One API software.
Aurora will use Cray's next-generation supercomputer system, code-named "Shasta," which will comprise more than 200 cabinets and include Cray's SlingshotT high-performance scalable interconnect and the Shasta software stack optimized for Intel architecture.
"Cray is proud to be partnering with Intel and Argonne to accelerate the pace of discovery and innovation across a broad range of disciplines," says Cray CEO and president Peter Ungaro.
"We are excited that Shasta will be the foundation for the upcoming exascale-era characterized by extreme performance capability, new data-centric workloads and heterogeneous computing.
When Aurora is completed in 2021, it will be the US's most powerful supercomputer – and potentially the world's, although other countries are also reportedly in the midst of building exascale supercomputers of their own.
China, Japan, and several European countries have been competing to build exascale supercomputers, as nations constantly jostle for bragging rights to having the world's fastest supercomputer.
According to MIT Technology Review, China is reportedly attempting to build an exascale supercomputer by the end of 2020, but it may be delayed by six months to a year, while Japan is targeting 2021, and Europeans are aiming to build their first exascale system by 2023.