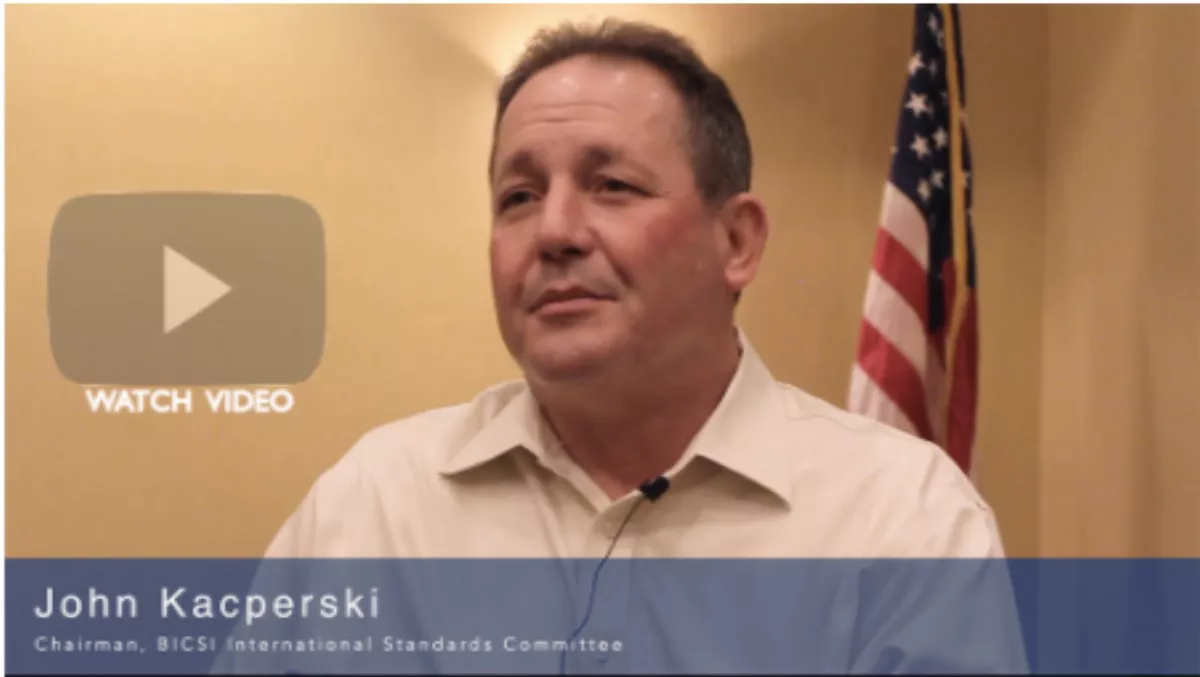 IDCA Exclusive Interview with BICSI Chairman of International Standards Committee
FYI, this story is more than a year old
In the interview, which was conducted in Phoenix, Arizona at an IDCA data center training and certification venue, John Kacperski said "IDCA has brought a lot to the data center industry. They have a strong foundation supported from the top down and they have definitely included everyone." Kacperski continued, "The more I get involved with IDCA the more I like it, and the more I want to follow this direction."
When asked what he thinks of IDCA's standardization programs he responded, "I definitely would recommend the program and the review of the standard by almost anybody involved with data centers." He went on to say that, "One of the eye opening things with the IDCA standards approach is by them not using manufacturers or equipment by name or anything like that, they are designing straight to the data center needs of the organization."
When asked about his views on IDCA's approach towards the industry he stated, "IDCA's fresh approach is exactly what this industry needs to harmonize the different standards and organizations such as IEEE, TIA, BICSI, ISO who all have a standard and try to harmonize across each other's lines. IDCA takes all the standards and turns it into a progressive process. They are the glue that holds all these organizations together. They definitely have built a platform that everyone can work with, in my eyes." He continued to state that, "IDCA's approach is a complement to many other organizations. The Infinity Paradigm® model and its different layers allow each standard to focus where they specialize."
"IDCA's Infinity Paradigm® is going to be something that's going to be talked about industry-wide. It just works! There is no other way to think about it", he stated. "It's very refreshing to see how IDCA's approach steps over all the current design standards and encompasses everything, and on top of it, it actually complements the current standards that are in place", he elaborated.
With regards to IDCA's members Kacperski said, "IDCA's membership is one of the things that stands out in my mind because they are end-users. They are people who actually use and operate data centers on daily basis. They are well focused in that and they keep manufacturers and suppliers out of the mix."He went on to say that, "the folks that have founded IDCA and their standards have, really, a lot of passion for what they do and for looking at this holistically, it's really impressive."
"As the current Chair of the BICSI standards committee, I see IDCA bringing to the data center design arena a fresh new approach and a breath of life to synergize with other standards and allow BICSI to grow its data center practice. I see IDCA as a partner taking data center design to the next level."
Kacperski is a BICSI certified Registered Communications Distribution Design (RCDD), with decades of experience in the field. He recently attended one of IDCA's data center training and certification week-long (5-day) programs where he completed both the Data Center Infrastructure Specialist (DCIS)® and the Data Center Engineering Specialist (DCES)® to become a Data Center Infrastructure Expert (DCIE)®. "One part that is most impressive with IDCA is their training and education program. I strongly recommend this course to my peers, my clients and anybody who's interested to understanding data center methodologies and practices. I've been looking at the courses for several years and trying to figure out which path I wanted to take. It all starts with the infrastructure and moves right and actually follows the path of the Infinity Paradigm® which is the foundation and standards that IDCA is founded on. I've enjoyed the class and walked away with quite bit of knowledge", Kasperski stated when asked for his opinion of the IDCA data center training courses he had taken.
"One of my goals with getting involved with the IDCA is to build a partnership. From my position as the Chair of BICSI standards committee, I see IDCA as strong organization that is bringing a lot of great knowledge to the industry that just helps with standards improvement holistically across all disciplines", he responded when asked how he plans to work with IDCA. "I see IDCA as taking the data center industry to the next level and I very much want to be part of that and I want BICSI to be part of that as well", Kacperski concluded.
John Kacperski is the Chairman of BICSI International Standards Committee and is also Vice Chair of BICSI 002, which is a data center design and operations standard and best practice. He has 40 years of experience in the data center industry.
Related stories
Top stories