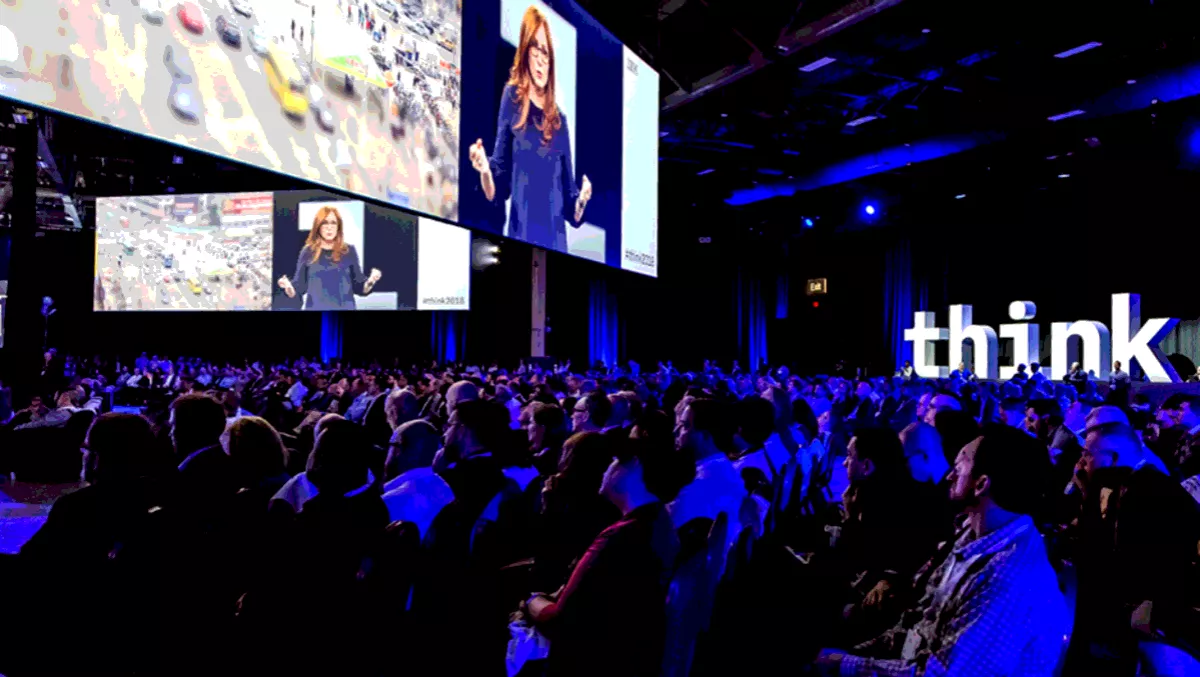 IBM betting big on multi-cloud with raft of new technologies
FYI, this story is more than a year old
IBM's annual THINK event is taking place this week in Las Vegas with the company making its intentions for the future clear.
The tech colossus is betting big on a multi-cloud world and justifying its stake with the current enterprise cloud market.
IBM Cloud Integration general manager Denis Kennelly says it's no secret that businesses around the globe are moving to the cloud, but the majority aren't moving to a single cloud – and the stats back him up.
IDC found that 85 percent of enterprises will commit to multi-cloud architectures in 2018, while a recent RightScale survey found that the average enterprise is using almost five public and private clouds.
In a blog post, Kennelly states that "this multi-cloud model enables companies to benefit from the unique characteristic of each environment but also presents a challenge: How do you tie them all together and ensure effective collaboration across an organisation?
It is for these reasons and more that IBM has invested in the multi-cloud space, announcing a raft of new technologies and capabilities tailored to assist businesses in their transitions to the cloud and secure connections of data and applications across any system.
Some of the new technologies IBM has unveiled to bolster its multi-cloud strategy include:
New capabilities for the IBM Cloud Private platform to speed the transition of business-critical apps to a cloud-native environment and help advance their development. A new Application Transformation Advisor scans traditional applications and provides insights and guidance for modernising them on the cloud. Cloud Automation Manager helps businesses deploy and run these modernised applications on-premises or on the cloud of their choice. A new end-to-end development experience integrated into IBM Cloud Private also helps create, deploy and manage apps across different clouds.
Last week, IBM became the first major cloud provider to enable Kubernetes containers to be created and run as a managed service directly on bare metal cloud infrastructure. Building on that news, IBM Cloud Private (also underpinned by Kubernetes) will offer new container versions of IBM app development and management software, including API Connect, UrbanCode and Netcool, to enable developers to develop, test, monitor and manage apps across multiple clouds and on-premises systems.
A new Cloud Integration platform which provides a single control point to a portfolio of technologies (including messaging, API management, app integration, high-speed file transfer and secure gateway) and connects data and apps across different clouds with the ability to be deployed on-premises or in private and public clouds.
IBM Cloud Object Storage service will now offer an integrated Aspera high-speed data upload option to make it easier and faster for clients to move huge amounts of data to and from the cloud. The service enables users to achieve transfer rates hundreds of times faster than standard http/ftp transfer with no additional ingest charges.
Kennelly says these new technologies are designed to help create a seamless experience across IT environments while eliminating unnatural barriers and freeing the flow of insights from data.
"IBM already is seeing strong interest from global clients in these technologies, including more than 150 companies signing up for IBM Cloud Private since its launch last quarter," says Kennelly.
"Built with an architecture and capabilities consistent with the public IBM Cloud, IBM Cloud Private can be used to create private clouds on systems from leading manufacturers including Cisco, Dell EMC, Intel, Lenovo and NetApp as well as IBM Power Systems, IBM Z mainframes and IBM Storage solutions.
Kennelly says the adoption of IBM Cloud Private has been particularly strong among financial services firms as companies are rapidly adding digital services that must meet strict corporate and regulatory guidelines.
"These financial services firms and others across a range of industries are moving to the cloud to tap powerful new technologies which help automate businesses processes and enable more engaging client experiences," says Kennelly.
"As companies increasingly adopt a multi-cloud strategy, though, it is crucial to put in place an architecture designed to tie all these environments together and grow in-line with business needs.