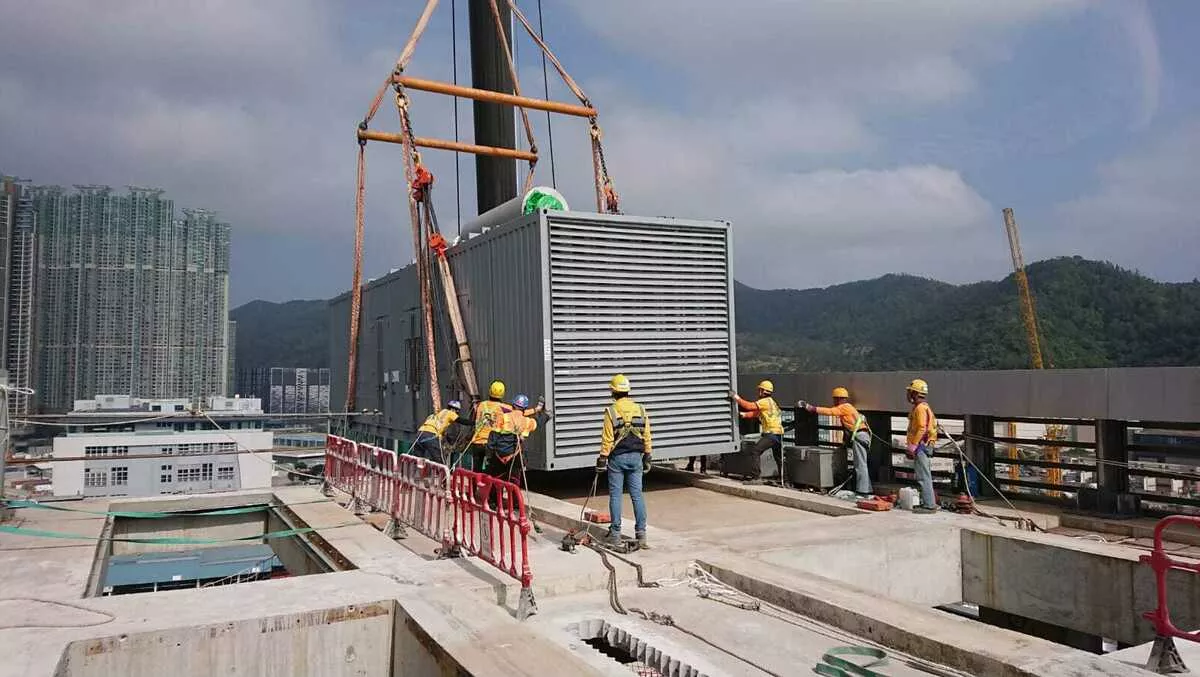 Hong Kong data center adopts state-of-the-art generators, boosting reliability and lowering costs
FYI, this story is more than a year old
A total of 29 highly-customized diesel generators were designed, built, tested, and installed within six months.
BACKGROUND
Hong Kong is one of Southeast Asia's principal financial and international trading hubs, and as such, benefits from rich connectivity through top-class data center infrastructure.
One of the largest carrier and cloud-neutral data center operators in the region was keen to extend its 70,000 square meter facility, switching from ageing rotary uninterruptible power supply to diesel generators as a means of reducing long-term maintenance costs. The challenge was to design in a high degree of customization for the generators and manufacture them to extremely tight timelines. Indeed, a total of 29 generators were required to be delivered and installed within six months.
Westwood, one of Kohler Power's primary distributors in Hong Kong, worked closely with the data center operator to scope out its complete requirements at the new facility.
Previously, the data center operator had relied entirely on traditional dynamic rotary uninterruptible power supply (DRUPS), but Westwood showed how a switch to KD generators could significantly reduce the total cost of ownership over the long term. Westwood and Kohler provided the customer with four different combinations of generator packages, covering a full range of options with multiple ratings, voltages, and fuel systems. After detailed technical evaluation across several meetings, the data center operator selected Kohler's KD2800E generating set, with a 2500kVA Data Center Rating at 11kV.
This choice was based upon the low-emission performance of the KD Series generators, along with Westwood's ability to integrate customized sets of mounted radiators that would meet airflow requirements. The race was on, then, to take the project forward in the designated timeframe.
SOLUTION
Kohler's ability to take a one-stop-shop approach to generator supply – from design and manufacture to testing and inspection, all under one roof – meant that it could take a fast and flexible approach to meet the data center customer's demands. Procurement teams at the Kohler plant in Singapore used the latest scheduling software, parts planning and stockholding analysis to deliver production visibility, giving the end-user confidence that the timeframes could be met.
Throughout the project, Kohler took a consultative approach to the first-of-type production and factory testing. The project team worked closely with the engineering team to accommodate any technical changes and then with the testing department to ensure that all customer specifications were met. This collaborative approach with the customer meant implementing modification requests when necessary, such as deploying a specific Modbus information upon failure mode.
From the outset of this data center project, the customer wanted weekly updates covering essential criteria such as component delivery, generation set assembly and testing schedule. The Kohler team invested many extra hours, often late at night and across weekends, to ensure that all activities remained on track. The client travelled from Hong Kong to the Singapore plant for witness testing, while Kohler also deployed high-definition cameras to allow remote real-time viewing of testing activities. Kohler also managed data recording during all eight hours of continuous load tests.
Meanwhile, Westwood delivered a full range of project management services, including overseeing the manufacture and installation of oversized enclosures locally in Hong Kong, to save time on transportation, installation, and commissioning. During the integrated systems testing and site acceptance testing phases, both Hong Kong and Singapore went under lockdown because of the pandemic. However, Kohler and Westwood teams continued to support the client remotely to complete the work.
OUTCOME
As a result of these activities, all 29 units of the KD2800-E industrial diesel generators from the KOHLER KD Series were delivered within the allocated six-month timeframe. This work included the successful completion of a full range of on-site safety checks, transient response, and load testing for each of the 29 units – taking 1.5day/unit. Aftersales is also being provided, meaning that technical support and problem resolution can be arranged with a single call to a Kohler expert, day or night.
As a global company with local expertise, Kohler provides a highly-effective service to the data center sector. From planning the design and selecting the equipment to testing and commissioning, Kohler focuses on delivering reliable, custom-designed power systems tailored to exacting specifications. Agile manufacturing, rigorous testing and careful commissioning – either directly or through a distributor - ensure a power solution that consistently meets customer needs.
Find out more at KOHLERPOWER.COM.