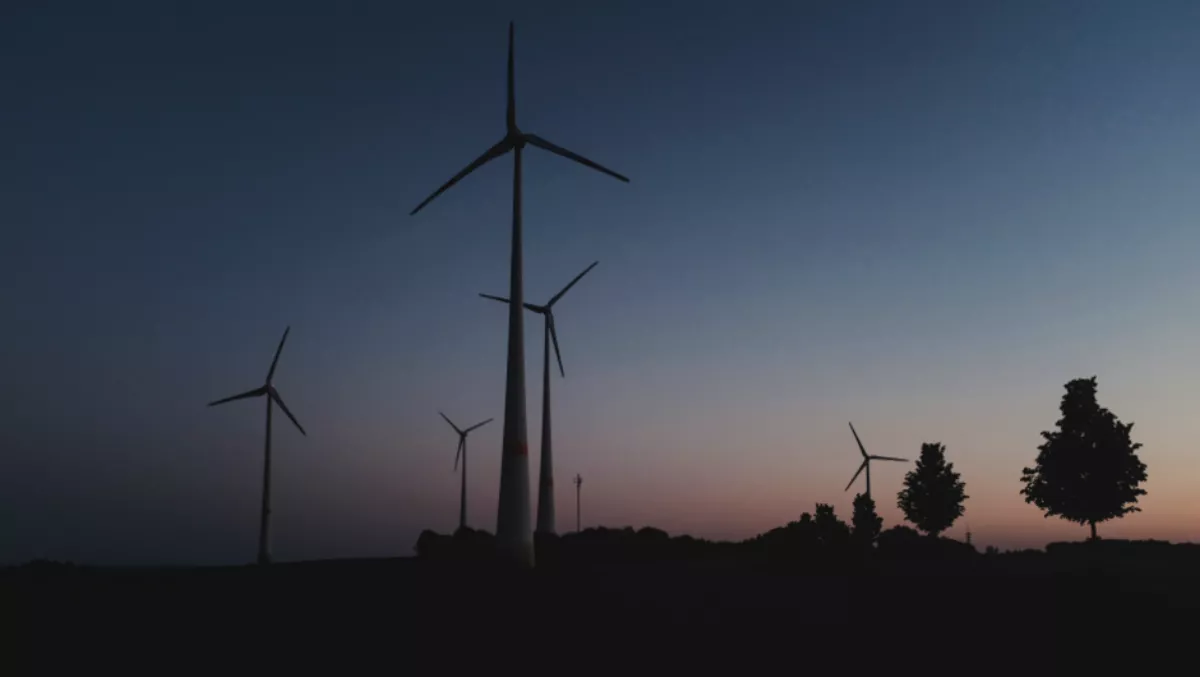 Google wants carbon-free energy for data centres 24/7
With data center operators around the world clamouring to get on-board the renewable energy train, Google has announced it intends to take it a step further.
The search giant has released a report that details its progress in making its data centers sustainable, after last year achieving the milestone of being the first company to match 100 percent of its annual electricity consumption through direct purchases of renewable energy.
Google head of energy market development Michael Terrell says while it is an important accomplishment, it is just the beginning.
"Electricity is the fuel that allows our data centers to deliver billions of Google searches, YouTube views, and much more—every single day, around the clock. Our commitment to carbon-free energy should be around the clock too," says Terrell.
The paper shared by Google reveals location-specific 'Carbon Heat Maps' that help to illustrate how well a data center is performing in regards to its hour-by-hour carbon-free energy usage.
Some locations perform better than others. For example, the heat map for Google's data center in Hamina, Finland reveals that 97 percent of the facility's electricity use in 2017 was matched with carbon-free sources.
"The predominance of carbon-free energy at our Finland data center is partly due to Google's purchases of wind energy in the Nordic region," says Terrell.
"Indeed, our large-scale procurement of wind and solar power worldwide is a cornerstone of our sustainability efforts, and has made Google the world's largest corporate buyer of renewable energy.
According to Terrell, in Google's renewable rampage they've partnered with local governments and utilities in an attempt to bolster the supply of renewable energy sources in area where the company operates.
"For example, near our data center in Lenoir, NC, we worked with our local electricity supplier to establish one of the first utility solar purchase programs in the U.S. Solar alone, however, is unable to provide electricity around the clock," says Terrell.
"When the sun is shining, our Lenoir data center is quite carbon-free (indicated by the midday green ribbon in the Carbon Heat Map below), but at nighttime it's more carbon-intensive; we plan to tackle this issue in the coming years by procuring additional types of carbon-free energy.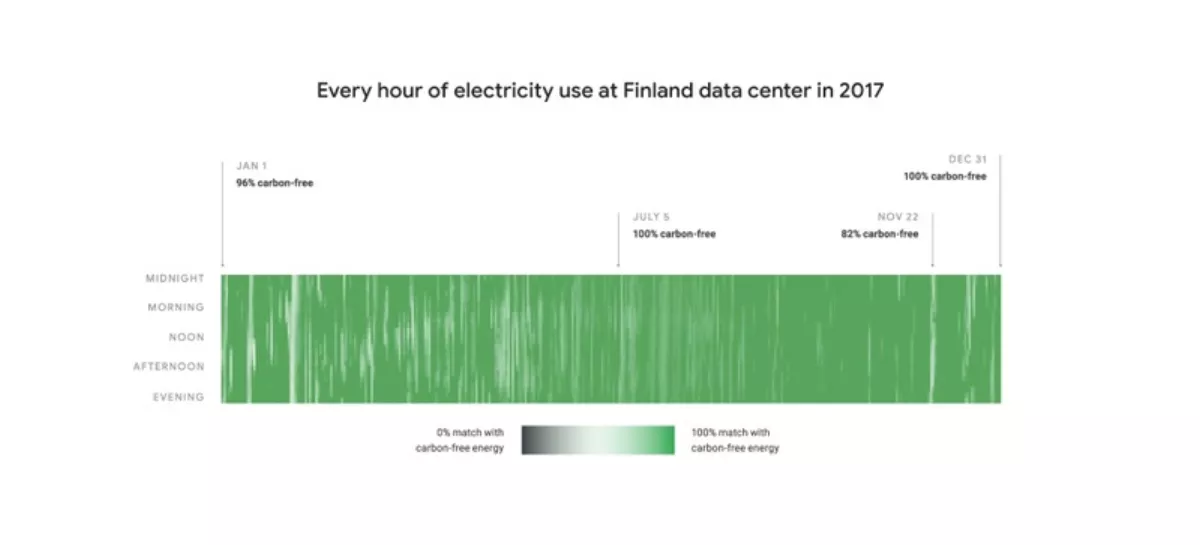 So while Google has matched its energy usage with purchases of renewable energy, the Carbon Heat Maps reveal there are still times and places where Google's electricity usage aren't yet completely carbon-free.
And the reason for this is obvious. To address its carbon-based energy usage, the company buys a surplus of renewable energy in regions or hours when solar and wind power are abundant – an example would be buying large amounts of wind energy in US Midwest to offset a lack of renewable energy purchases in Asia.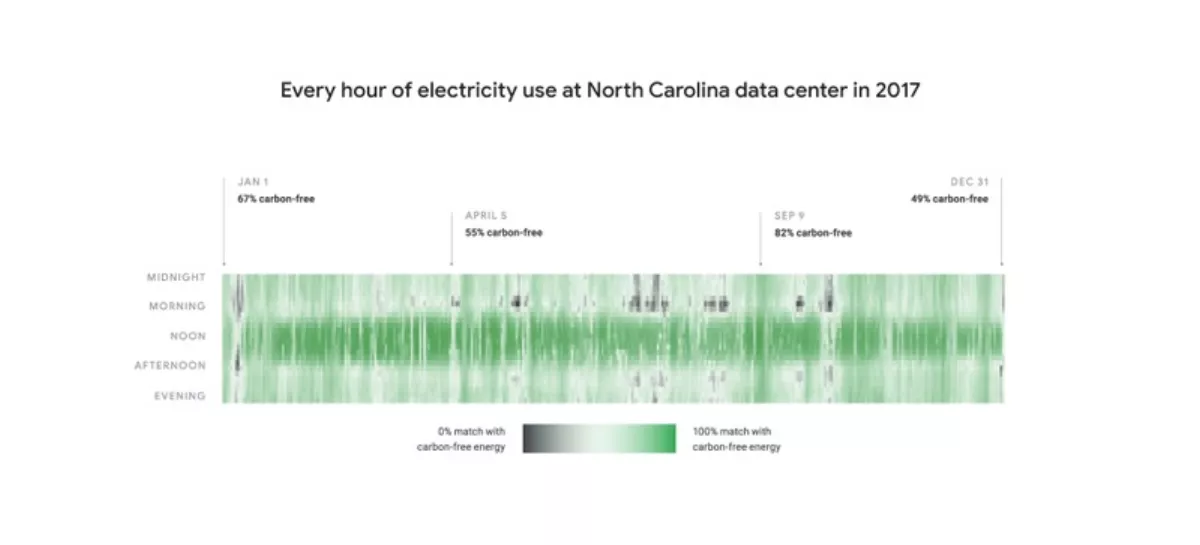 While this is a positive result as the company's purchases directly result in more renewables being added to the grid, it's still not a complete solution as Google's facilities aren't running 24/7 on carbon-free power. And so that's the next goal for Google, for every data center to be always matched around the clock with carbon-free power.
"Ultimately, we aspire to source carbon-free energy for our operations in all places, at all times. Creating a carbon-free future will be no easy feat, but the urgency of climate change demands bold solutions," Terrell says.
In terms of the way forward, Google says it's still in the early stages of reaching this milestone, but has outlined a number a path forward.
The first step will be policy and market reforms that abolish barriers to obtaining carbon-free energy, in addition to new policies that promote the significant importance of carbon-free energy and appropriately price the attributes of different power sources.
Google says it will continue to put its weight behind electricity market reforms that open up avenues to carbon-free power around the globe.
There will also need to be 'vigourous' development and deployment of emerging technologies – which include energy storage, advanced nuclear, and carbon capture and storage – to accelerate the advances in 24/7 carbon-free energy.
Google says it will offer its expertise in resource efficiency and problem-solving strategies like machine learning to add a boost to the energy technology field.
And then finally, Google says there will need to be new energy contracting approaches that focus on providing firm low carbon electricity 24/7, which will likely be achieved through a combination of multiple generation sources or the adoption of energy storage.
Google says the company is looking forward to the challenges ahead and is excited to press on to the next milestone.