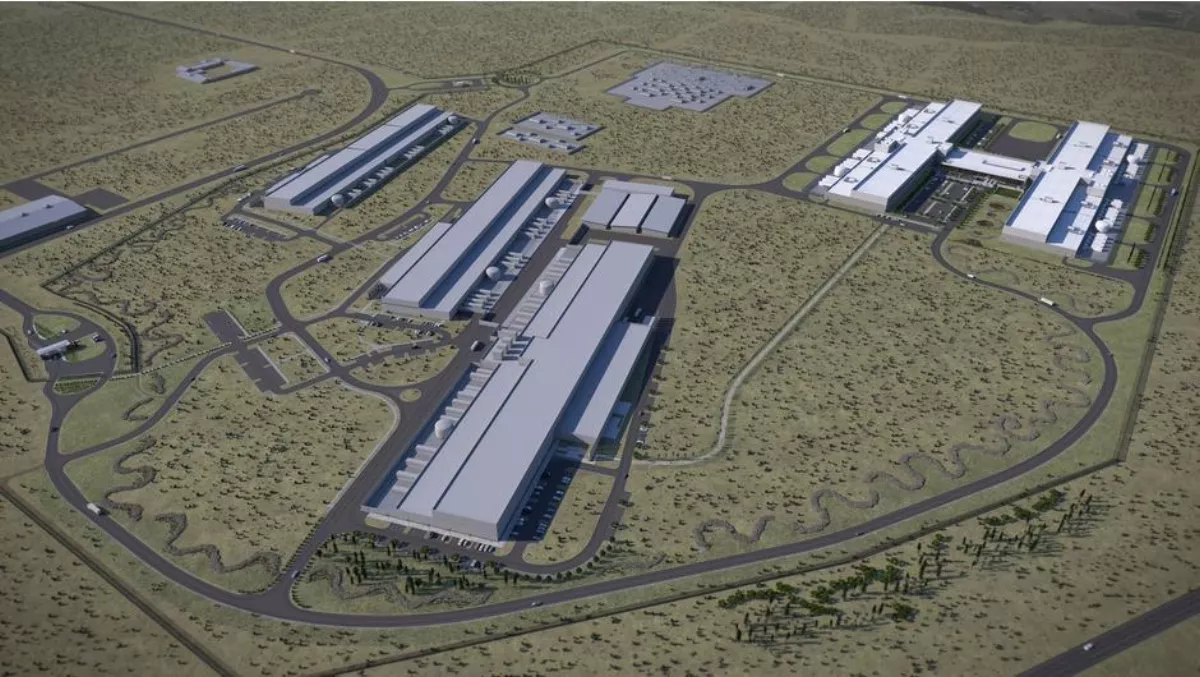 Facebook commits to 100% solar power for data center campus
FYI, this story is more than a year old
Facebook has announced that its Prineville data center campus made up of five data centers will be powered 100 percent by renewable energy – solar energy, to be precise.
The social media giant has partnered with Pacific Power in a move it says will aid in driving the city's growing data center industry, economic growth, and in bringing new cost-effective resources onto Pacific Power's system while achieving Facebook's long-term sustainability goals.
The partnership will result in new solar developments producing a whopping 436 megawatts, including two projects totalling 100 megawatts in the Prineville area.
"This partnership bolsters Prineville's 21st century model for a small-town," Governor Brown says.
"With projects like these, we continue to demonstrate that Oregon is ready for the clean energy economy of the future.
From left: Facebook's Michael Matthews, Urvi Parekh, Bryce Dalley and Peter Freed with Mayor Roppe, Governor Brown, Crook County Judge Seth Crawford and Pacific Power's Scott Bolton.
Facebook energy strategy manager Peter Freed says taking advantage of resources to power its data centers and finding genuine partners to achieve these goals has been a priority.
"Our work with Pacific Power to develop new solar resources represents a significant milestone for our hyper-efficient Prineville Data Center. We are committed to supporting 100% renewable energy, and we are thrilled to have found a solution for our first data center," says Freed.
"We are proud to be a part of the Prineville community, and look forward to a continued partnership with the city and the state of Oregon.
Data centers are often painted in a bad light due to their usually energy-hungry appetites, but it's interesting to note some of the transformations that have occurred in the Prineville region since Facebook opened its first data center there in 2011 and opened four more since.
The unemployment rate has dropped from 17 percent to 6.5 percent today, stronger infrastructure has been implemented including new roads, parks, and an elementary school. Education benefits have come from grants, including support from Facebook, and upgrades to school curriculums, including more STEM education opportunities.
"We are expanding from our timber roots to a future with greater business diversity and a workforce with broader skills," says Prineville Mayor Betty Jean Roppe.
"It is through contributions and support from organizations like Facebook and Pacific Power, that Prineville is growing new jobs and strengthening our schools with programs that meet the skills needs of tomorrow. This inspires new paths and opportunities for future generations, right here in town.
Pacific Power CEO Stefan Bird says the company is excited for the opportunity with Facebook.
"At Pacific Power, we believe in the power of partnership. As a 100-year company with a long history of serving smaller communities across Oregon, we believe progress is best achieved when business and community come together," said Bird.
"We view this partnership as a way for Facebook to meet its sustainability goals and for Prineville and its neighboring Central Oregon communities to grow and thrive, while delivering cost-effective resources to all of our customers.