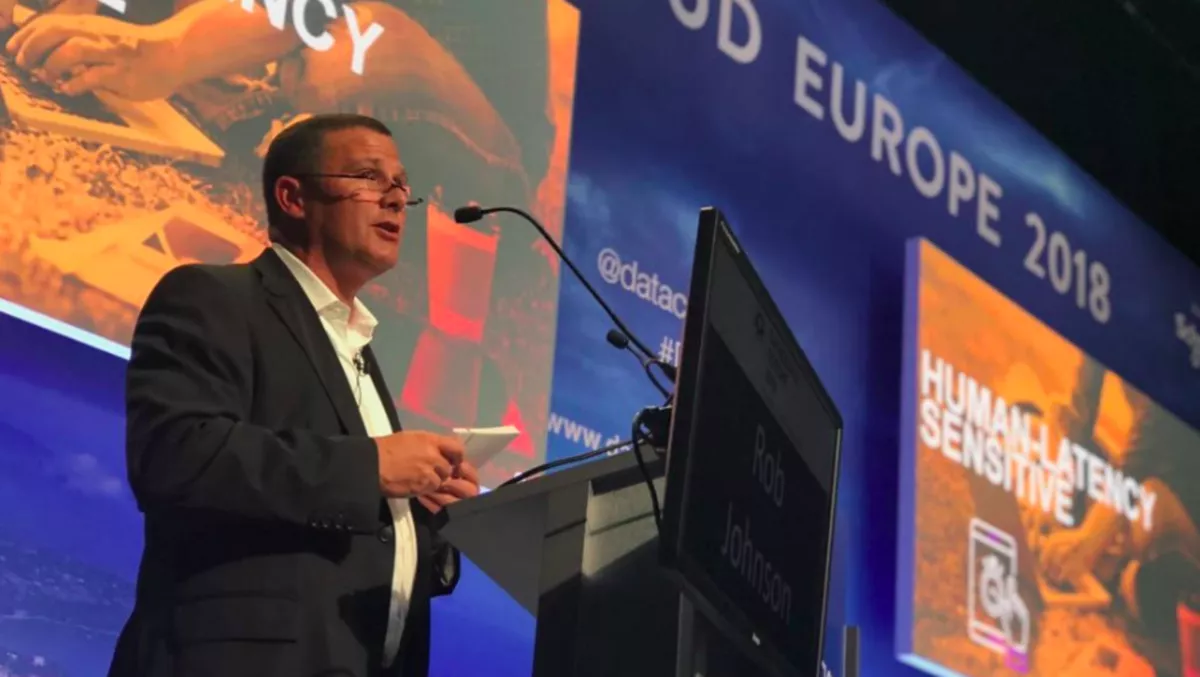 Exclusive: Vertiv CEO reveals company's bets for the future
Thu, 14th Jun 2018
FYI, this story is more than a year old
By Ashton Young, Editor
At this year's Datacloud Europe event in Monaco, we were able to sit down with Vertiv CEO Rob Johnson to discuss the data center industry and his company's operations.
In terms of current trends in the industry, Johnson places the most emphasis on the edge.
"We recently released our edge report that details what is happening on the edge. I think a lot of people don't realise how fast it is actually growing, as we're beginning to see explosive growth in the industry," Johnson says.
"For years it's been hyped up with constant reminders of the imminent arrival of 5G etc but now we are beginning to see effects of its arrival. If an online buyer has to have 10 milliseconds in latency, that could cause a 1 percent drop. For somebody like Amazon that's worth $4 billion a year. Users don't have patience, particularly millennials. And then there's new exciting innovations like autonomous vehicles that just won't happen without the edge.
Johnson says the biggest thing in data centers right now is going modular.
"People aren't wanting to build a large 40 MW facility at once, they'd rather go for 2 MW or 3 MW chunks at a time using the stock available so they can get them running," Johnson says.
"Furthermore, what I think is happening now with the monumental rise of data centers is a big increase this year in the shortage of supply. Modular type data centers are an answer to this as you can buy some, put them into inventory and then deploy when necessary.
In terms of what the future five years down the line will bring, Johnson expects there be more modularity and standardisation to enable operators to 'pay-as-you-go'.
"You've had these hyperscale companies that are engineering companies by nature with lots of money who will ultimately get it the way they want it. If we as vendors don't provide it that way, they've already proven that they'll go make it their own way," Johnson says.
"We're moving into a hybrid situation as certain things work really in the cloud, but in others we just don't have the time from a latency perspective so they have to be done locally.
Johnson says one of the biggest areas Vertiv placing its bets on is predictive analytics.
"An increasing number of people are looking to build data centers while bringing the costs right down. In order for that to happen, you have to remove redundancy and bring reliability up - the only way you can do that is with predictive failure analysis," says Johnson.
"Having a full-time data stream from the equipment and taking analysis from a pool of our own data including analytics around how the equipment performs allows us to know 'if this piece of equipment is doing this, it's only a matter of time before it's going to fail' so using big data for us is extremely important.
Data Center energy consumption is an ongoing problem with many countries now concerned about providing enough power to actually run data centers – hence this is another area that Vertiv is investing in.
"Data Centers use a lot of batteries. They sit there and probably don't do anything 95-99 percent of the time. It makes sense to use those batteries in combination with renewable energy like solar or wind," says Johnson.
"You'll see us investing into how we integrate more renewables and how do we take our equipment and utilise the batteries that are sitting there to become part of the more efficient data center. We're doing trials right now in the UK with our customers where they will actually be able to turn the UPS on battery and do demand shifting for a period of time.
Johnson says they are also working on advanced R-D into fuel cells, as they are a hot topic in data center circles but just too expensive at the moment.
In terms of why Johnson is confident in the future of Vertiv, he is clear.
"What you're seeing with Vertiv is we are a privately owned company that isn't part of a big conglomerate, which enables us to invest a lot of money into R-D for a total solution. We're looking at things not just today, but three or four years out so when those ideas come up, we'll be there with the products," Johnson says.
"We have 3200 field service people globally to be able to take care of our customers, which means we have the largest field service organisation trained up to be able to handle the total solution.
Johnson also mentioned that China is a big business for the company as the country maintains huge growth potential.