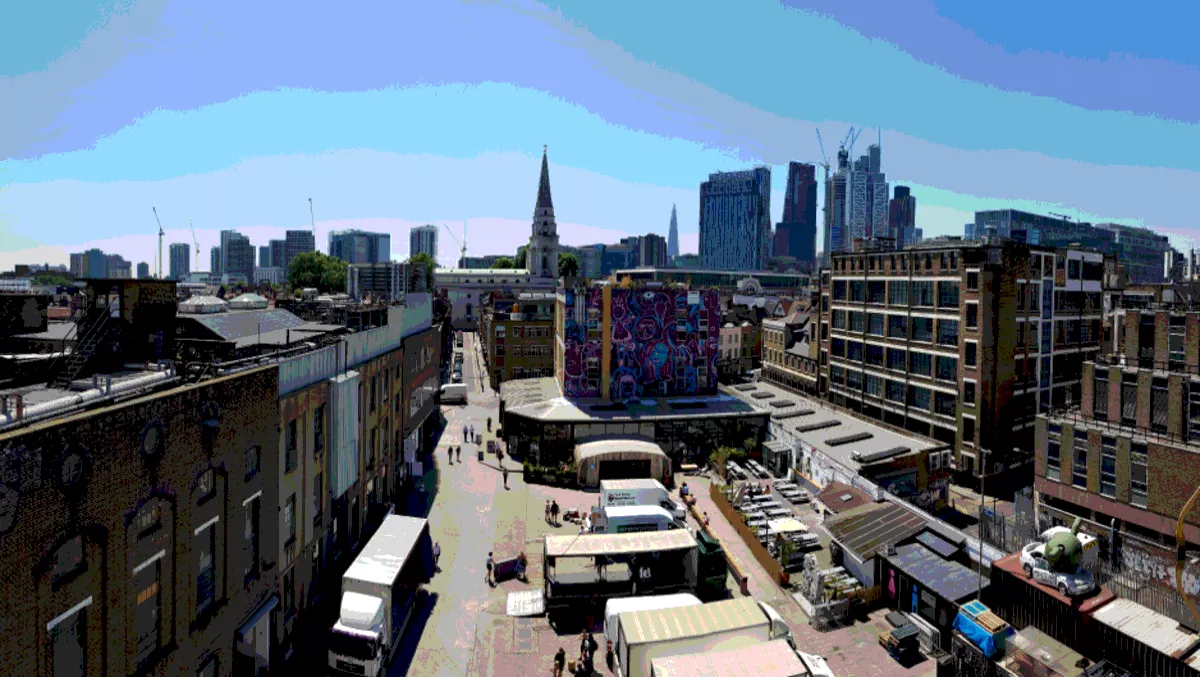 Exclusive: A tour of Interxion's London campus that's actually in London
A data center campus, inside an old brewery, on top of various bars, cafes, and a vinyl record shop.
Sounds like something out of a movie but that's just a few of Interxion's points of difference, with managing director Andrew Fray proud of the fact that to his knowledge there is no data center campus in the world like it.
Recently Interxion took us on a tour through their London data center campus and HQ, that included a presentation from Fray (the photo above was taken from the roof of one of the data centers within the campus).
At the time of publication the campus was made up of two data centers but will soon be welcoming a new data center into the London family, LON3 which is currently under construction.
The truly remarkable thing about Interxion's London data center campus is undoubtedly the location, nestled in hipster-central Brick Lane and hidden in plain sight.
"Where we are is a rather unique location as we are just across from Commercial Street which borders the 'City of London', the historic financial district also known as the Square Mile," says Fray.
"This means we are well and truly in the city, but not in 'The City'. It means we have access to all the great things the Square Mile has, and since 2010 we have found ourselves near the middle of 'Tech City' introduced by David Cameron as a major tech hub. We're close to Liverpool Street Station, the London City Airport and as of next year we will be on the Elizabeth Line and highly connected to Heathrow Airport.
Fray says the site where the campus is now goes back to the 17th century when beer was brewed there – the Old Truman Brewery.
"In the days of the East India Company when beer was exported from here, it became a major site for trade and I always reflect on that because you come forward a few hundred years and this is still a major site for trade," says Fray.
"The reason why Interxion is here is because of its location and its connectivity and the fact that people want to trade in this location - previously physically, but now digitally.
Fray asserts the bustling area surrounding the campus has a number of benefits.
"We have five layers of physical security onsite, but one of the ironies here is that there is such a density of activity around that security is actually enhanced. This is a crowded place, on the weekends there's around three quarters of a million people in this area - similar to Portobello Market, Camden Road, or Kensington," says Fray.
"The key thing is interconnection, that our customers have - whether they're a carrier or not - huge diversity from Slough to the west to Docklands to the south east. Very often our customers will choose this location as part of that diversity.
One thing that Fray wanted to stress is that the company isn't like other traditional offerings.
"Our key message is that our business here is primarily about connectivity, about allowing people to connect regardless of whether that's from on-premise, to here and out to the world, or whether it's to deliver content to here and then out to devices. It's not particularly about storage, it's largely about trading and transactions," says Fray.
"We are doing value-added things here to help our customers do what they do best. For example, we can manage our customers' fibre cross connects to all be the same length so they all have the same latency within the data center, they can arrange cross-connection with one another through us, and we have recently launched Key Guardian which is effectively a secure independent party holding encryption keys to the Kingdom.
One particular interesting fact is that the company's full name is actually 'Interxion Carrier Hotel Limited', a name that is not used very often but Fray says is still applicable.
"Back in the day when I was first starting this business, we only had a couple of providers in the UK and if you wanted to be in a data center you would go into one of those two and you would have to buy their services. And then that model was broken with the introduction of carrier-neutral," Fray says.
"It was a building and you could put your critical infrastructure in there but you could choose which carrier you use. And that just came at the sweet spot when all the American carriers piled into the UK on the back of liberalisation. So the name is in fact still relevant as we essentially provide an IT hotel room with space, power, cooling, security, and effectively concierge services for companies that want to operate their critical infrastructure.
In that sense, Fray says, Interxion is not a managed services company.
"We now have around 2,000 customers across the group and over 700 employees. Our big success story has been consistent year-on-year growth in revenue. We have just built steadily in spite of all the disruptive factors that have gone on globally in the last decade," Fray says.
With LON3 in the midst of construction and a fourth data center (LON4) in the planning stages, you get the sense that business is going well.
"Demand is amazingly healthy. A lot of the market has gone towards the hyperscale data center, but what we are also seeing is that enterprises are not wanting to put all their resources into the big clouds as there are certain things that they want to keep control over," says Fray.
"There is another reason why enterprises aren't committing everything to the hyperscalers and that is because they want a very highly connected location, which the big clouds might not be able to give them. That's what we're providing and we're finding incredible demand for that. Smaller deployments that are more flexible and sitting right at the hub. If your big hyperscalers are your beating heart, this is the controlling brain.
While the company's line of sight is LON3, Fray says they will soon be focusing on LON4 that will undoubtedly hold similar challenges to LON3.
"We had to demolish a building in order to clear the site where LON3 is now located and because we are in a heritage area we had to have archaeologists on site so they could attempt to dig for Georgian remains. The designing and building of a facility in the location it's in has been complex as it has involved demolition, ground work, and construction in a very constrained and busy environment," Fray says.
"It's not a green field where we can just mark out where we want it and trucks and lorries can easily drive in to drop off supplies. We're actually in the middle of a bustling city here. Which is exactly why we've done it.