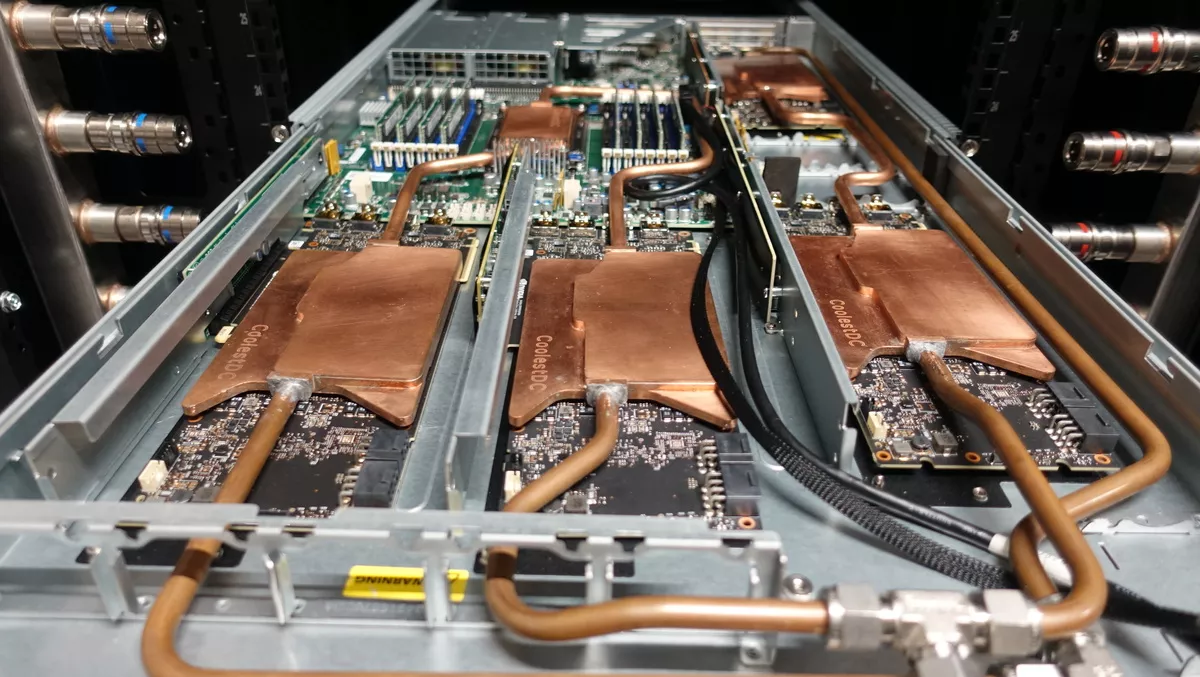 Digital Realty & CoolestDC roll out liquid cooling for SIN11 data center
By Newsdesk
Tue, 30th Nov 2021
FYI, this story is more than a year old
National University of Singapore spinoff CoolestDC has struck a partnership with Digital Realty to develop high-efficiency thermal management solutions for the data center industry after the two companies successfully completed a pilot program to improve energy consumption and data center efficiency.
The pilot program, which was supported by investment firm Temasek Foundation, involved the deployment of liquid-cooled compute pod, chilled water systems and dry cooler configurations.
Results from a study revealed a reduction in power consumption of up to 29% and an increase in IT performance of 39% when compared to conventional air-cooled servers. According to the companies, this equates to a single rack with a power density of 25 kW saving up to $25,000 a year in power savings.
"The performance of the liquid-cooled servers remained stable, with no overheating measure causing thermal throttling, even at full rack capacity. With these improvements, data center operators only require 25 liquid-cooled servers to achieve the same IT performance as 30 air-cooled servers, indicating significant capital expenditure (CAPEX) and operating expenses (OPEX) savings.
CoolestDC's hybrid cooling technology is designed to be 'scalable and easy to implement', according to the company.
CoolestDC founder Poh Seng Lee says, "Liquid cooling is an overlooked technology that can give enterprises and data center operators in the tropics a sustainability boost while substantially reducing energy consumption by 20-30% and water usage by up to 50%."
CoolestDC's technology will now be offered as a bare metal service. It will also be implemented at Digital Realty's SIN11 data center before being rolled out at other Digital Realty data centers.
Digital Realty APAC managing director Mark Smith says it's an exciting partnership that has a positive impact on sustainability goals.
"It goes without saying that the onset of the COVID-19 global pandemic highlighted the invaluable role data centers play in the digital economy. We believe liquid cooling has the potential to make an important contribution in reducing total power consumption and CO2 emissions.
Temasek Foundation chief executive Lim Hock Chuan says that the environmental footprint of data centers is a pressing concern.
"Temasek Foundation is happy to support CoolestDC to develop a disruptive, energy-efficient, and low water consumption solution to cool data centers. As the solution can be deployed both in brownfield as well as greenfield applications, the innovation can be a blueprint for a sustainable data center operation enabling cities like Singapore to be a green data center hub.