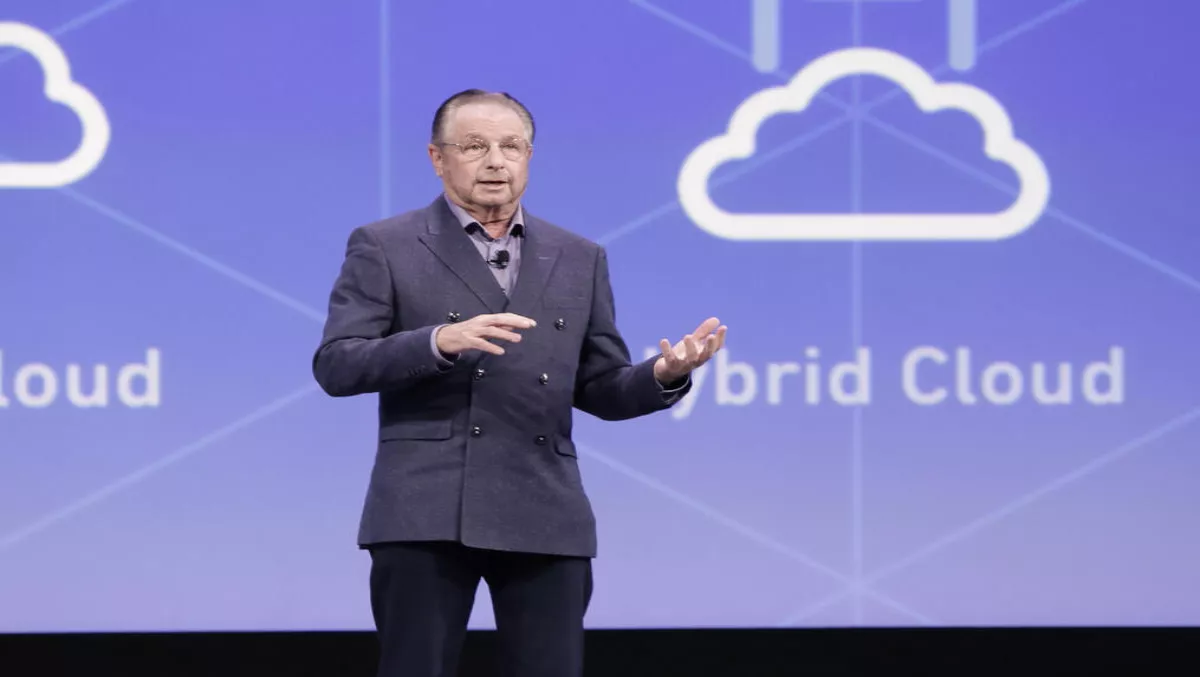 Commvault's CEO Bob Hammer to Michael Dell - "game on"
The IT world is shifting, drastically, from an infrastructure-centric business model to data-centric, and it's all powered by the new possibilities and complexities enabled by the cloud.
This is according to Commvault's CEO N. Robert Hammer, who kicked off the company's second annual customer conference in Maryland recently with an opening keynote focused the event's overall theme: Powerful Simplicity.
Hammer spoke on how powerful simplicity is enabling enterprises to achieve remarkable things – remarkable being another theme - with a particular focus on data analytics, as the backup company pushes further into the new terrain.
He covers the company's new partnership with Cisco, the Commvault Data Platform and its new Hyperscale software.
There's been a major shift in thinking, say Hammer, in the way companies are thinking about their data as they move to public, hybrid and private cloud and transform their traditional infrastructures to cloud-like infrastructures.
This shift is driven by a few key trends, explains Hammer.
"[Companies are] finding ways to become more resilient and recover from cyber-attacks, to become more compliant with new regulations like GDPR, build better data foundations to facilitate business and data analytics.
"Customers are rethinking how they build and operate IT. They are starting to make a shift in their thinking from infrastructure-centric to data-centric in this age of digital transformation.
"Data management is the foundation of digital transformation.
The cloud has changed everything: Cyber attacks, compliance and data analytics
"For the past 20 years, legacy IT is where data was centralized, contained, stored – and not shared. Data technology is about sharing, collaboration. Data is dispersed and available everywhere," continues Hammer.
"Traditional approaches are just not working. The cloud has changed everything. It's change our thinking to everything-as-a-service, and has added a massive amount of complexity with multiple clouds and new SaaS related data silos.
"Cyber attacks are certain, they are now not an if, but a when. We are shutting down entire enterprises with cyber attacks.
"Governance and data compliance have become a much higher priority due to the need for data privacy and a host of new regulations.
"And data analytics has become the price of entry for business success. The world shifting from IT to DT.
Trends driving the change
The world is changing and there are four major trends driving the shift, says Hammer.
1. Hybrid IT -The cloud and hybrid IT have gone mainstream
"Hybrid IT is better suited for today's data-centric realities. Seamless agility is critical to enable customers to use cloud, or clouds, and deploy any on-premises infrastructure, and to seamlesslu move and securely access applications and data without needing to physically consolidate them.
"Not all infrastructure can be shifted to the cloud due to cost, compliance and security.
2. Risk and threats - There's a greater need to mitigate and recover from risk and threats
"Cyber is after your data, not your infrastructure. Security spending is at an all-time high, but data recovery and remediation at also critical. Both a required because it's not if but when a cyber attack gets through your defenses and cripples your business.
3. Compliance – Compliance imperatives are increasing
"We are in a world of increasing regulation. The EU's new GDPR applies to all companies doing business in the EU and not just those residing in the EU.
"And there's a 4% fine on total revenue for non-compliance.
Hammer says compliance to GDPR requires companies to know, find, locate, delete, track and put appropriate policies on all relevant data where it lives.
"The real is issue is that most companies do not have a comprehensive understanding of their data.
4. Analytics – The new table stakes
"Actionable insights to drive business decisions is becoming the heart of all organisations. Analytics impacts IT architecture, methodology, including enhanced search and characteristics, ability to understand and integrate different types of data sources.
It's all about the data, and our guiding principle has never changed: make it easier for customers to protect, use and get value from their data, says Hammer.
To do this, the Commvault Data platform is a distributed data platform that works to reduce cost, simplify management by automating key processes, enterprise-wide reporting, while including significantly added security, explains Hammer.
Commvault Data Platform enables users to get value from their data by enhancing the indexing of the data to make its content more searchable, and discoverable, to improve business decisions.
Commvault's Powerful Simplicity: From terabytes to petabytes and beyond
As IDC puts it, "What the market wants is simple, but what they really need is powerful.
"We don't just say Powerful Simplicity, we design and deliver it." And the embodiment of this is the company's recently released Commvault Hyperscale Software, which Hammer calls, "The right product, at the right time, at the right place.
"[It] provides a unique Linux-based scale-out infrastructure that enables customers to deploy their preferred off the shelf hardware." And this includes Fujitsu, Cisco, Huawei, and "even our really good friends who try to kill us every day – Dell EMC.
Cisco is the company's first hardware partner that will take the hyperscale software to market as ScaleProtect with Cisco UCS.
"What you've got is a leading data management company combined with a leading infrastructure company.
In a nutshell, the fully-automated platform enables customers to manage from remote locations, and the data center to the cloud, seamlessly, says Hammer, from terabytes to petabytes and beyond, from department to enterprise wide-scale.
Built on the Commvault Data Platform, the solution comes in two form factors – from an integrated module or appliance to a software-defined storage solution, continues Hammer.
"The [Commvault Data] Platform makes all of this possible. Why? Because it's a fully distributed architecture which spans from the big data center, to the cloud, to SaaS or any IoT device.
"And the Platform covers the whole spectrum of data use cases, spanning backup, replication, DevTest, DR, migration, to highlight a few.
"And I will say one thing, we're not kidding around with this.
"Michael [Dell] made a big announcement recently – spending a billion dollars to build a fully distributed platform. Well, I've got some news for him - it's here.
"And just a note to Michael, we're going to be innovating a lot faster than you are, Michael, so, game on.