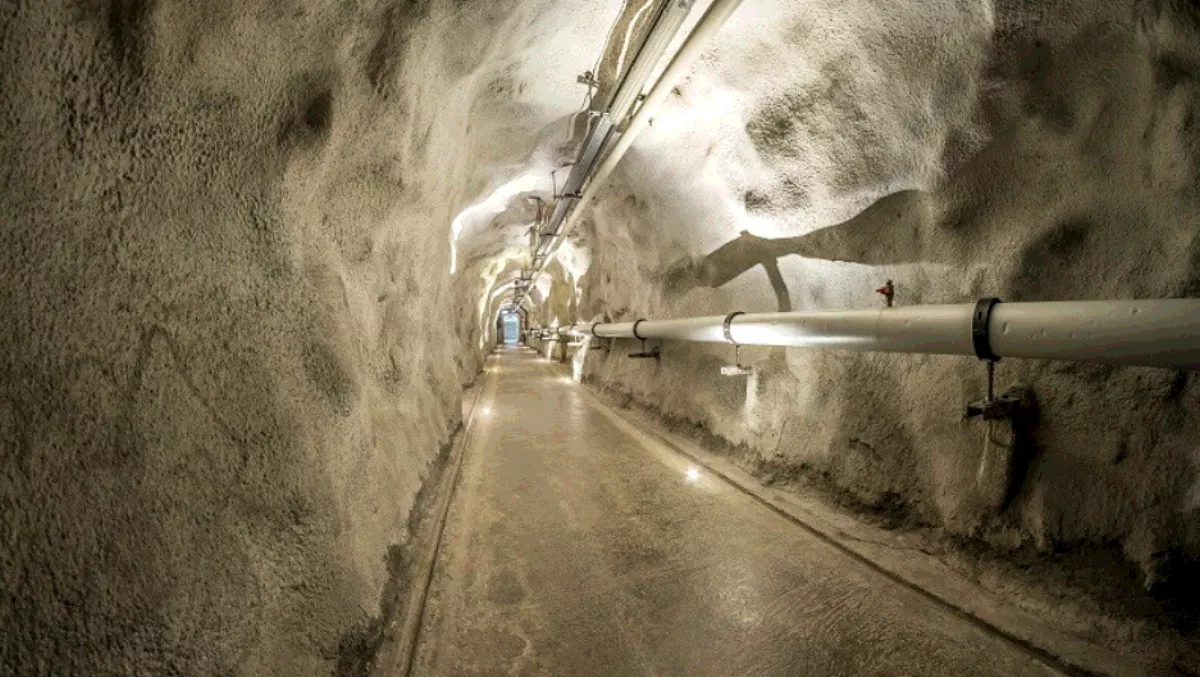 CASE STUDY: New data centre deep in Swiss mountains in an ex-military bunker
FYI, this story is more than a year old
With data now one of the planet's most precious materials, security is of the utmost importance.
Data Centers peppered around the world are employing revolutionary physical and security innovations to stay one step ahead of malicious criminals and other risks like natural disasters – and now DELTALIS has taken it that one step further.
Deep in the Swiss mountains in a former military bunker, the data center company is providing modular and scalable data center services from pure housing through to full-managed services, all with an extraordinary level of security.
'Data resilience' is an often coined term in the data center industry and the premises certainly embodies 'resilience' with a physical perimeter that is literally hewn out of rock.
DELTALIS asserts in addition to physical security, this location frees the facility from the risks associated with an urban environment such as vibrations, overloaded energy networks, civil works and construction.
Despite the location's isolation, it is still within 60 minutes from Zurich and therefore lies on the Internet backbone of Europe while utilising 100 percent locally produced stable green energy (independent from the global energy markets) and is connected to one of Europe's thriving commercial hubs making it ideal for both domestic and international accessibility.
"When we established DELTALIS, we had three primary goals. We wanted to deliver absolute physical and digital security so that our clients could trust us without question. Switzerland has recently been ranked number three of the most suitable countries in the world to locate a data center from a risk point of view," says Frank Harzheim, the company's CEO.
"We also wanted to provide a facility that would be trusted within the Swiss market - one of the most demanding anywhere globally. Finally, our aim was to offer customised services, delivering a more bespoke experience than can be found elsewhere in the market.
With the unique location finalised, the next decision came down to Data Center Infrastructure Management (DCIM).
"Any data center decision maker who has been through ISO 27001 certification knows how demanding the standard is," Harzheim says.
"There's no room for ambiguity or error and it demands a systematic approach to managing sensitive company information. We had to undertake a series of risk management processes to ensure that data remains secure, and this spans people, processes and IT systems. Despite the challenges, there are significant benefits to our customers, such as improved business continuity and risk management, legal compliance and the elimination of key security threats.
DELTALIS began its journey with Vertiv due to its expertise in power and thermal management - as essential to DELTALIS as to any mission critical facility. However Vertiv was also able to add strategic benefits in enhancing DELTALIS' infrastructure monitoring and management capabilities.
With a focus on providing all of the capabilities required for ISO 27001 and beyond, an implementation of Vertiv's TrellisTM DCIM platform offered significantly enhanced visibility, control and planning. Thanks to its real-time infrastructure optimisation, and being both modular and adaptive, it provides DELTALIS with visibility into its critical infrastructure systems.
"In our case, creating an optimised mission critical facility didn't mean just starting from scratch with a green field site. We needed to turn a non-custom designed site into a highly optimised and efficient data center. This required smart engineering to get around physical and legacy infrastructure factors," says Harzheim.
"Furthermore we knew that we needed complete visibility and control of the performance of our data center, and everything that's important in our service - which is why we've got DCIM at the core of our operations.
DELTALIS realised early on that investing in a comprehensive DCIM solution would enable them to meet customer Service Level Agreements (SLAs) more efficiently and also enable their own business agility.
"Vertiv has a compelling solution with the Trellis platform – the hardware and software combination of Trellis and its ability to consolidate alarms from heterogeneous systems was significant for us," says Harzheim.
"Trellis is exceptional at integrating different language and protocol systems in a single control panel. What's more, the expert support team we met was one we could trust and believe in.
The Trellis platform has enabled DELTALIS to undertake live health checks of the data center - examining the facility's power consumption, the performance of critical systems and gaining information about key assets such as alarms.
"As a data center provider we have a conceptual perfect state of 100% utilisation of capacity. But getting anywhere close to this is challenging, and the more we use our space, the more we have to understand the impact on cooling and other operational factors," says Harzheim.
"Now with Trellis we have the ability to make those decisions. Equally, a major cost in our business is power, and Trellis helps us to optimise this key operational factor. With this combined visibility we can get the most from the considerable investments we have made, and maximise the value of those assets.