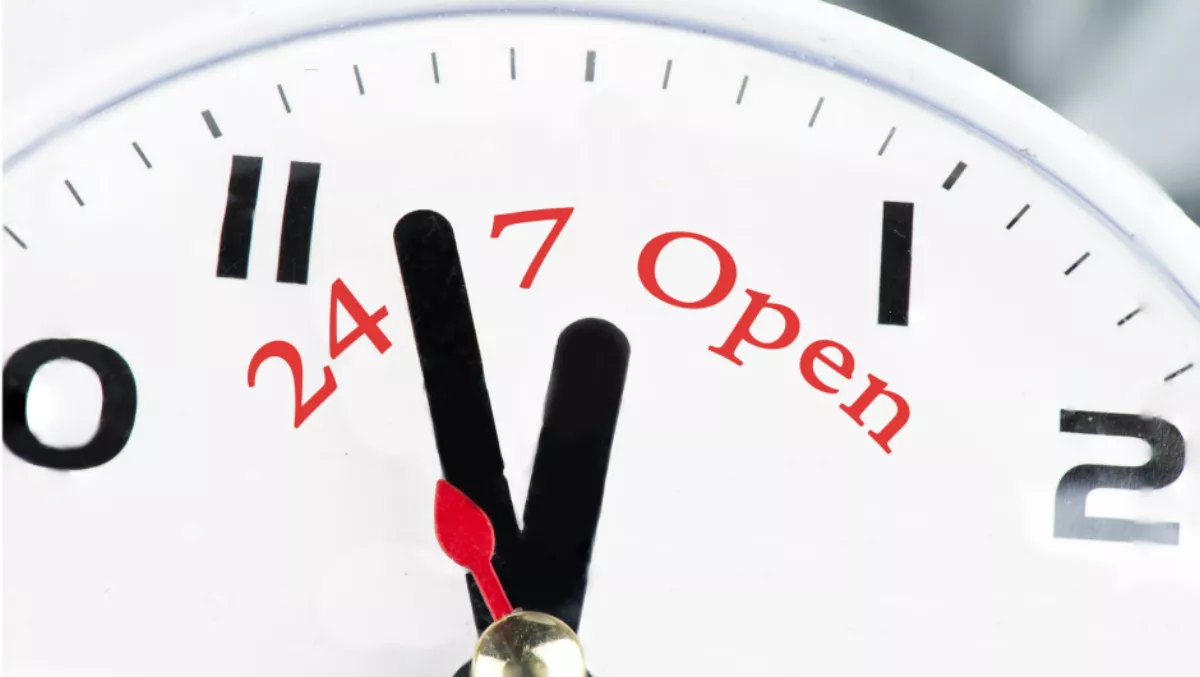 Avoiding the four million dollar pitfall of unplanned downtime
Wed, 25th Nov 2015
FYI, this story is more than a year old
Today's business cycle has a global scope, and it's no longer five days a week, eight hours a day.
Now, constant access to products and services across time zones is the norm, the product of an increasingly mobile workforce and demanding consumer expectations. Driven by the rise of virtualisation and globalisation, organisations are finding themselves propelled towards the expectations of an always-on business with zero downtime.
In the era of the always-on business, the ability to access business-critical applications from any location, at any time, is an unspoken basic commercial expectation.
Having the right IT tools to support business operations is no longer an option for business continuity, but a necessity to stay ahead of the competition. It's a challenge for any organisation to survive in this era; but for an organisation whose profitability depends solely on being available 24/7/365, it's a matter of survival.
Take a look at the online retail industry. With revenue from the online retail industry predicted to hit US$4.4 billion by end-2015 from less than US$1 billion a mere five years ago, there is tremendous growth opportunity for organisations of all sizes in the industry.
With their profitability depending solely on being available 24/7/365, it is absolutely critical for these organisations to ensure that their business is always-on, and always available. However, supporting the always-on Business brings its own sets of challenges for IT.
How then, can IT support the infrastructure required of an Always-On business, while driving sustainable growth? The answer is as simple as these four E-A-S-Y steps.
E – Everything is 'always-on'
Backup and recovery is a crucial part of any organisation, but it's even more so for an organisation which never sleeps.
With the right skill set, an organisation can stay always-on and ensure that they are protected with near continuous data protection and streamlined disaster recovery. IT outages, regardless of whether they are minor or major, can cause extended downtime for an organisation, and the resulting data loss can run into the millions and gravely jeopardise the bottom-line.
According to Veeam's annual Data Center Availability Report 2014, enterprises lose more than S$4 million a year from lost revenue, productivity, opportunities and data irretrievably lost through backups failing to recover.
While that might seem like a huge cost, it can be greatly reduced with the utilisation of the right IT tools designed for data protection, and proactive steps to ensure all-round data protection.
Firstly, an organisation should follow the 3-2-1 golden rule to keep valuable data intact: 3 copies of data with one in production, on 2 different media, with 1 preferably stored offsite.
Secondly, backup with regular recovery testing is a waste of time and resources. A backup plan has to be supplemented by routine recovery testing that ensures the accurate functionality of all operations.
Lastly, every employee in the organisation should be aware of procedures put in place against IT outages, natural disasters and the like.
A – Availability gap
Many organisations have adopted cloud-based and virtualised technologies in pursuit of greater speed and efficiency. Yet in many cases, legacy IT tools are still being used to manage these, creating an availability gap.
Characterised by lag issues caused by data loss, long recovery times, unreliable data protection, and a lack of visibility of the IT environment, the availability gap is further widened by the expectations of an organisation to be always-on, and the deployment of IT as a strategic asset to boost business rather than support back-end operations.
Common issues an organisation faces are the cost, complexity and missing capabilities of legacy IT tools. By facing these issues head on and utilising the right IT tools to address this availability gap, an organisation can further reduce the cost of downtime while boosting its long-term business continuity strategy.
S – Speed of backup and data recovery
There is no tolerance in today's organisation for an IT outage. A downtime of even a couple of hours means financial loss for the organisation, and a negative impact on its reputation – both internal and external.
In these instances, quick execution of data backups without disrupting the performance of existing infrastructure ensures that both financial and data loss is kept to a minimum, thereby mitigating any potential downtime.
If there is one thing that an organisation needs to stand firm on, it's the speed of recovery – an ideal recovery time and point objectives (RTPO) should be that of less than 15 minutes for all applications, without compromise of the preferred recovery method. RTPOs that take hours or days, are simply too costly for an organization to bear, no matter its size.
Y – Yoga principle
Just like yoga, balance, stability and flexibility are the three key attributes of an 'always-on business'.
An organisation needs to balance total visibility into virtual environments with accessibility; virtualisation might enable flexibility, but it may also create a management nightmare for its operators to control, and could even backfire with outages.
To mitigate this, an organisation should be risk-aware; issues should be monitored proactively, and alerted before they have a chance to impact operations. For instance, an organisation should aim to recreate and test their backup and recovery systems in a simulated environment.
Only through comprehensive testing and acute understanding of its virtual realm, can an organisation leverage these data to make informed IT strategies that help to boost business.
Conclusion
The role of IT in an organisation is not stagnant, but evolves along with the organisation's maturity. At a mature level, IT strategies drive business growth, in addition to supporting the organisation's back-end operations.
In order to build the groundwork that creates availability, there is a need for an organisation to implement technologies that marry modern demands with immediate ones.
By Raymond Goh, Senior Technology Advisor, Asia and Japan at Veeam