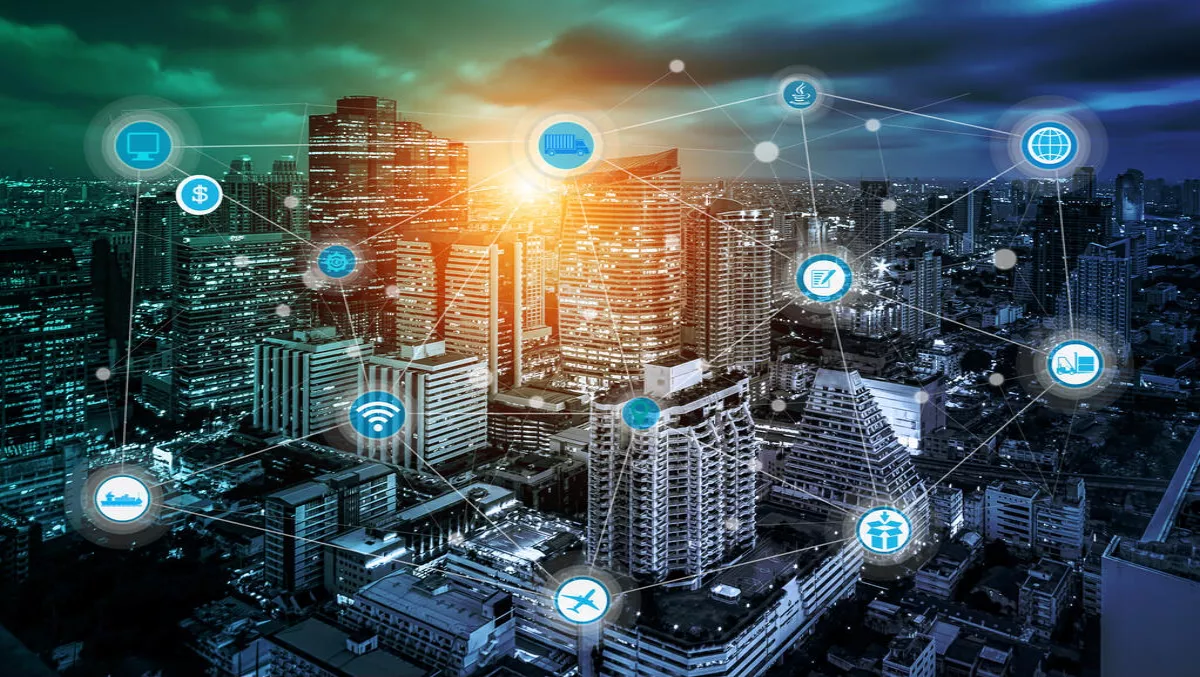 The amazing story of 30 billion things
Envision this: about 30 billion things will be connected to the Internet in just a few years (IHS, March 2016). The information superhighway or web of yesteryear has fast become a digital landscape that's fundamentally hard to imagine.
Thanks to the emergence of the cloud and the exciting promise of analytics, tiny chips embedded in products (i.e., things) are creating a vast IoT ecosystem teeming with valuable data.
Now what if every one of these things had a voice? A story to tell, if you will. From the conveyor belt in a production line to a thermostat in a hotel conference room to a battery backup unit that protects a hospital operating theater?
At first, you may hear a cacophony of gigabytes. Me, I hear a captivating story called "From sensors to business sense." Made possible by Schneider Electric Innovation At Every Level, our EcoStruxure architecture helps customers leverage real value from all this data. But only if we listen to it.
Gather around. This is the story of IoT-enabled digital services, and it's changing the way we think and communicate about business assets, energy, efficiency, operational performance, and total cost of ownership.
Here's the plot summary:
Chapter 1: "The Insomnia Cure: peace of mind with remote monitoring"
We work with a lot of data centers. Ask any data center manager, and you'll know that the fear of downtime keeps him or her up at night. Whether their data center supports a bank or a hospital or a giant telco provider doesn't matter. Uptime is precious at all times.
For some time, connected devices have afforded remote monitoring capabilities on critical assets. An environment sensor can say, "This rack is way too hot." But with the proliferation of IoT in the data center, more and more data points are being collected, creating new ways to operate and service the data center. Our cloud-based StruxureOn™ offer, for example, uses data-driven insights to generate smart alarms.
Our customers also have access to Schneider data center experts 24X7. Immediate event resolution is at hand, and experts also can provide proactive recommendations and service coverages as needed. Learn more about the benefits of digital remote monitoring for data centers.
Our connected products include much more than data center devices. Switches, breakers, drives, pumps, belts, motors. With EcoStruxure, these products turn data into actionable information stored in our highly secure cloud.
Now they're no longer just connected products; they're serviceable assets that can provide valuable data-driven insights for our customers to improve efficiency and performance.
Chapter 2: "The Sixth Sense: predicting asset failure before it happens"
Power reliability is important to everyone. It's understandable that many of us take power availability for granted — until it's not. Available, that is. Now consider how important power reliability is in critical environments such as hospitals, heavy process industries, or nuclear power plants. Patient and operator safety rely on secure power. It's not exaggerating to say that lives depend on it.
Digital services for asset performance management keep track of the health of connected devices across the power train (or the production line or the grid infrastructure, etc.). For example, we now can go into a facility, assess the entire electrical infrastructure, and prioritize assets and proactive maintenance levels based on what room or equipment they supply.
Predictive analytics lets us go beyond proactive maintenance. What do we hear? "My battery is approaching end of life." "The power quality is poor." Digital services can prevent device failure long before it happens. We even can ship a part on-demand before the operator even notices.
For instance, we helped New Belgium Brewing Company in Colorado decrease packaging machine downtime by more than 50% by identifying potential issues using software. And watch how the University of Rochester Medical Center is leveraging our digital services to improve asset performance and extend the life of its facility infrastructure.
This is what happens when you give data a voice.
Chapter 3: "Slaying the Vampire: shedding light on energy over-consumption"
We care about the health of our planet. So we're especially excited about digital services for energy performance management. If we listen to the data, we can make huge strides in curbing energy consumption on a global scale, one customer at a time. For energy, we hear "Glug, glug!' a lot. Even equipment that's powered off can be at the mercy of "energy vampires.
We know how to fight back. Shedding light on energy use, Energy Performance Services can be applied to a building, multiple buildings, industrial plants, or even an entire city. First we help connect a customer's assets and extract multiple forms of data to the EcoStruxure platform. Energy usage, utility costs, water consumption, building occupancy, and more. A Schneider Electric Energy Expert Advisor can access that data stored in the cloud, analyze it, and begin to develop strategies to help improve a customer's overall efficiency.
Analytics tools are used to build energy patterns and identify savings opportunities. Energy experts can evaluate and recommend improvements, and then to monitor and maximize energy efficiency. Through multi-site and multi-point performance analytics, our experts can advise on smarter strategies and help customers to prioritize projects that will deliver the most predictable improvements over time. Discover how Hilton Worldwide saves on energy efficiency, in turn leveraging savings for improving the guest experience.
The moral of the story
Collect data. Listen to it with the help of analytics. Act on it. This is the value of EcoStruxure. Now that's one powerful story, and we're happy to say that this story's end is merely just the beginning.
Article by Prith Banerjee, Schneider Electric Data Center Blog